Categories >
Guides and Tips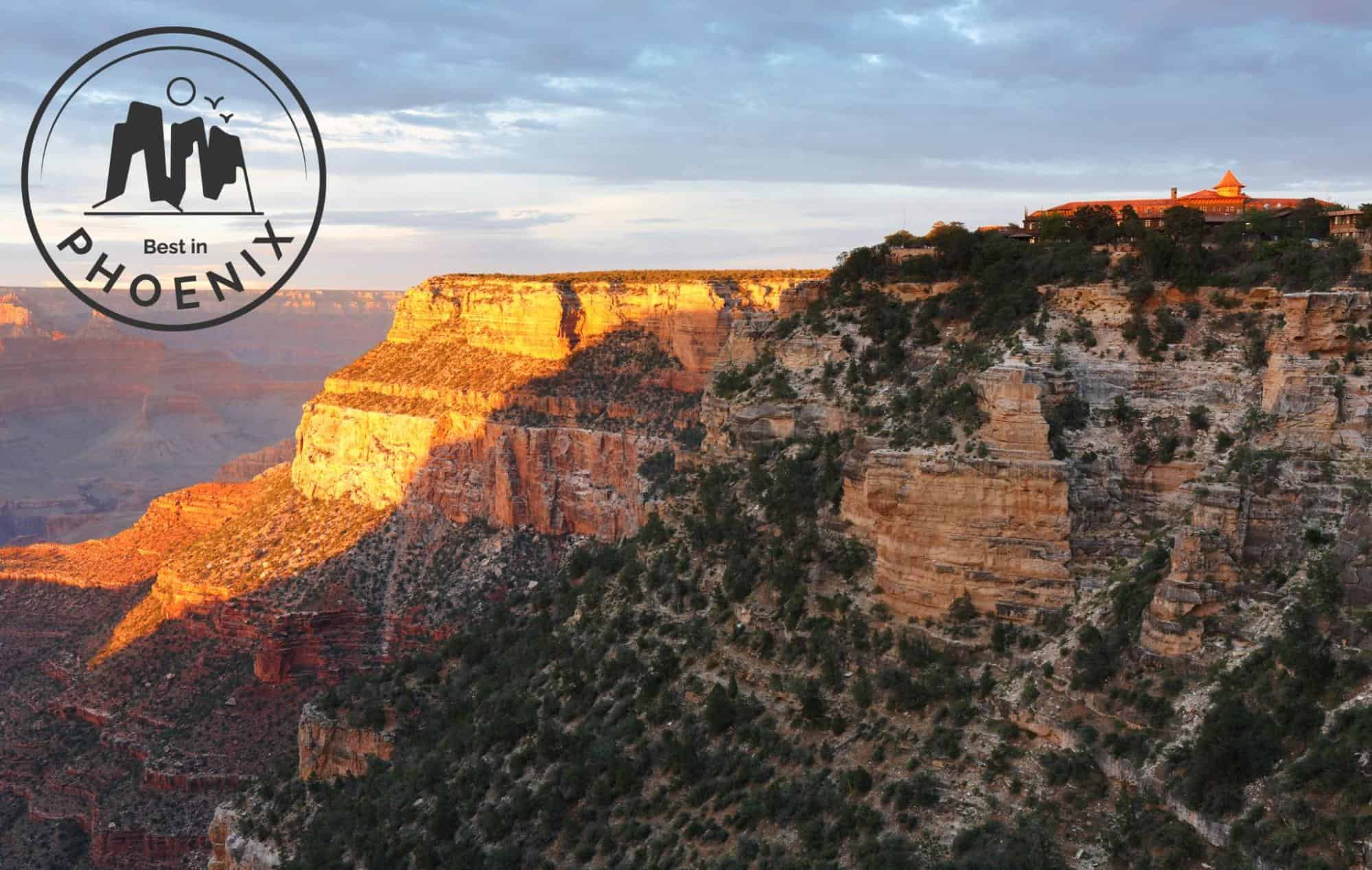 Travelling From Phoenix to the Grand Canyon: Your All-in Guide
The Grand Canyon National Park is said to be one of the most beautiful examples of natural rock formations and arid-land erosion formed millions of years ago.
It's a majestic sight of towering canyon walls in a spectacular array of changing colors – from deep red to golden brown, light gray to slate, and even a subdued pink to a vibrant violet.
It rightfully holds its place as one of the Seven Natural Wonders of the World, which is why millions of tourists flock to see its beauty every year.
Thankfully, we live in Phoenix, which is only a few hours away from the Grand Canyon. So if you're coming from the valley looking to make the trip, keep reading for our guide on how to get there.
What is the best way to get to Grand Canyon from Phoenix?
The best way to get to Grand Canyon from Phoenix is via car, which should take about 3 to 4 hours.
That said, transportation options to the Grand Canyon from Phoenix include trains, buses, shuttles, planes, and even helicopter tours.
| | | | |
| --- | --- | --- | --- |
| Mode of Transportation | Approximate Travel Time | Approximate Round Trip Cost | Ideal For |
| Train | 5-6 hours | $230 per pax | Solo travelers and large groups |
| Bus or Shuttle | 7-8 hours | $200 per pax | Solo travelers, large groups, company outings |
| Plane | 3-4 hours | $550 per pax | Travelers on a tight schedule |
| Helicopter Tours | 7-8 hours | $700 per pax | Travelers who prefer guided tours |
| Car | 3-4 hours | $180 per pax | Solo travelers, families |
1.  Getting to the Grand Canyon via Train
The easiest way to get to the Grand Canyon via train is by hopping on the Amtrak's Phoenix station and getting off at Williams. There are 3 trips daily, which cost an average of $54 per way.
From here, you can transfer to the Grand Canyon Railway, which will take you directly to the edge of the park.
The Grand Canyon Railway has trains departing from Williams daily. It's a scenic 2-hour trip that'll take you through lush forests, mountainsides, and vast desert plateaus.
Most passengers are able to spot rich wildlife, too, including mountain lions, elks, antelopes, and some bald eagles.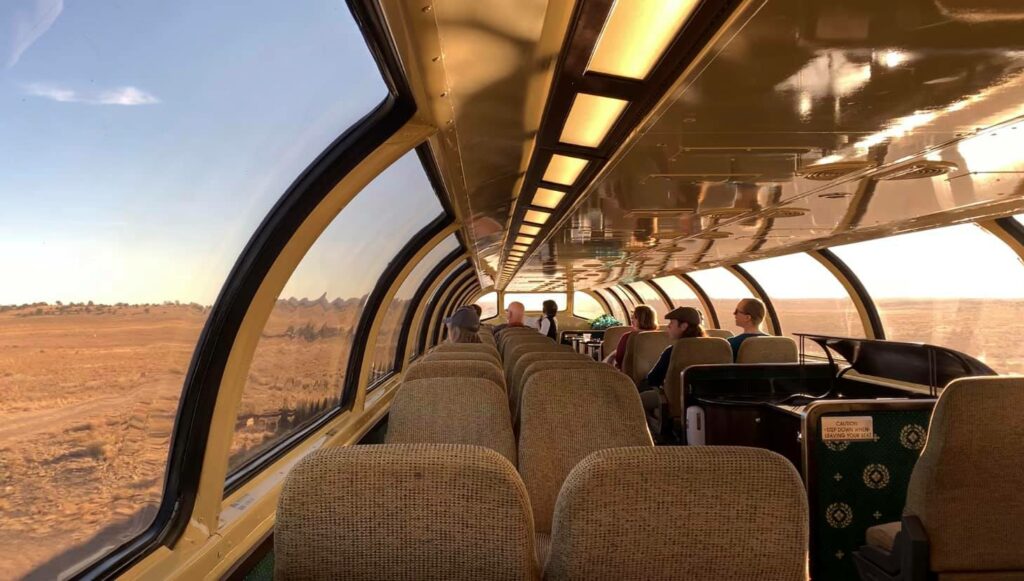 The train offers a variety of car classes you can choose from. The cheapest options are the Pullman and Coach, while those who love traveling in luxury may opt for the Observation Dome or the Luxury Parlor.
| | | |
| --- | --- | --- |
| Class | Roundtrip Rate for Adults (ages 16+) | Roundtrip Rate for Kids (ages 2-15) |
| Pullman Class | $67 | $32 |
| Coach Class | $82 | $51 |
| First Class | $159 | $129 |
| Observation Dome | $189 | $153 |
| Luxury Dome | $226 | Not permitted |
| Luxury Parlor | $226 | Not permitted |
Note: Rates reflected are as of February 2023. Admission for kids aged 2-years old and below are free.
During winter, the Grand Canyon Railway also brings to life the Polar Express. It's a unique and magical experience that journeys passengers through the nighttime wilderness to the "North Pole".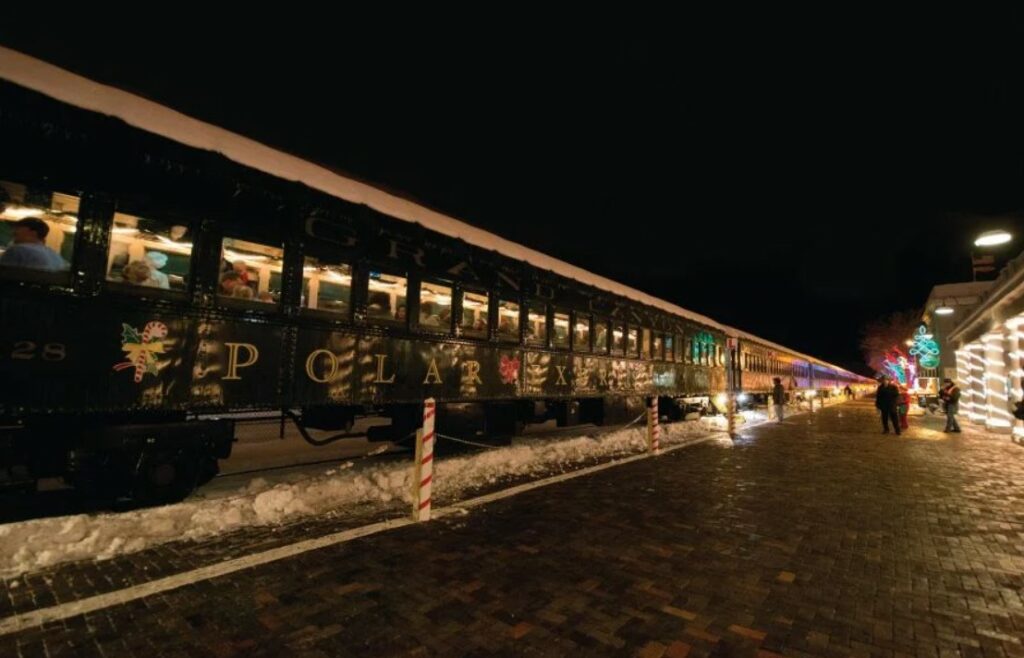 Some of the Polar Express packages include overnight stays in the Grand Canyon Railway and Hotel. These packages start at around $350 per person, which will vary depending on the amount of inclusions and the dates you choose.
It does, however, get booked up months in advance. So if you plan on bringing your kids and getting to the Grand Canyon on a holiday carriage, we suggest booking as early as possible.
2. Getting to the Grand Canyon via Bus or Shuttles
There is no direct bus line from Phoenix to the Grand Canyon. However, there are a few options you can take.
1. National Charter Bus Phoenix
If your traveling party is relatively large, the National Charter Bus Phoenix provides professional group transportation services. They have transport options for groups of 55, 25, 20, and 18 people.
They offer a variety of luxury amenities, as well, to make the trip as comfortable as possible. These include WiFi, electric outlets, AV entertainment with a high-tech sound system, compact restrooms, and more.
The rate will naturally vary depending on where you'll be coming from, but below is a general guide to give you an idea of how much it'll cost. It's best to contact them directly for a no-obligation, free quotation.
| | | | |
| --- | --- | --- | --- |
| Bus Type | Per Hour | Per Day | Per Mile |
| Charter Bus | $120-$250 | $1,100-$1,900 | $4-$6.20 |
| Minibus | $108-$225 | $990-$1,710 | $3.60-$5.58 |
For more details on their Grand Canyon Charter Buses, visit this link. You may also call them at 480-626-4711.
2. Groome Transportation
Groome Transportation (formerly Arizona Shuttle) offers daily schedules van shuttle services from Phoenix to the Grand Canyon Village. Click here for rates and bookings.
A cheaper alternative would be to ride either a Flixbus or a Greyhound bus from Phoenix to Flagstaff. There are 3 bus stations in Phoenix, but most of the Flixbus and Greyhound ones travel from Phoenix Bus Station adjacent to the airport.
| | | |
| --- | --- | --- |
| Bus | Route | Rate |
| Flixbus | Tempe (University/Rural) to Flagstaff | $20.99 |
| Flixbus | PHX Airport to Flagstaff | $20.99 |
| Greyhound | Phoenix Bus Station to Flagstaff | $20.99-$23.99 |
| Greyhound | Glendale Bus Stop to Flagstaff | $20.99-$23.99 |
Note: Rates reflected are as of February 2023.
Travel time is around 2-3 hours. From Flagstaff, ride the Groome Transportation shuttle to the Grand Canyon Village. Or, transfer to the train depot next door and take the 45-minute train ride to Williams where you can board the Grand Canyon Railway.
3. Grand Canyon Shuttle Service
The Grand Canyon Shuttle Service offers door-to-door transportation from various locations, including Phoenix. They do custom pickups and drop offs to the Grand Canyon National Park's South Rim or North Rim.
The travel time to the South Rim takes an average of 4-5 hours, while it takes 7-8 hours to the North Rim. They can accommodate groups of all sizes with notice by reservation.
For custom quotes or bookings, you may contact them here or call 1-888-215-3105.
Getting to the Grand Canyon via Plane
The nearest commercial airport to the Grand Canyon is Flagstaff Pulliam. American Airlines, Alaska Airline, and SkyWest Airlines all have daily and direct flights from Phoenix to Flagstaff.
The average flight time takes less than an hour. If you book at least 2 months in advance, tickets go for as low as $250 per way.
From Flagstaff Pulliam, you can book a shuttle from Groome Transportation or Grand Canyon Shuttles. Or, you can take the Amtrak from Flagstaff to Williams and board the Grand Canyon Railway.
The Grand Canyon does have a closer airport – the Grand Canyon National Park Airport. However, only private or charter planes are allowed to land here.
Getting to the Grand Canyon via Helicopter Tours
Helicopter tours to the Grand Canyon from Phoenix are quite common. A few of the popular ones are from Maverick Helicopters, Westwind Air Service, and 360 Adventures.
1. Maverick Helicopters' Colors and Canyons Tour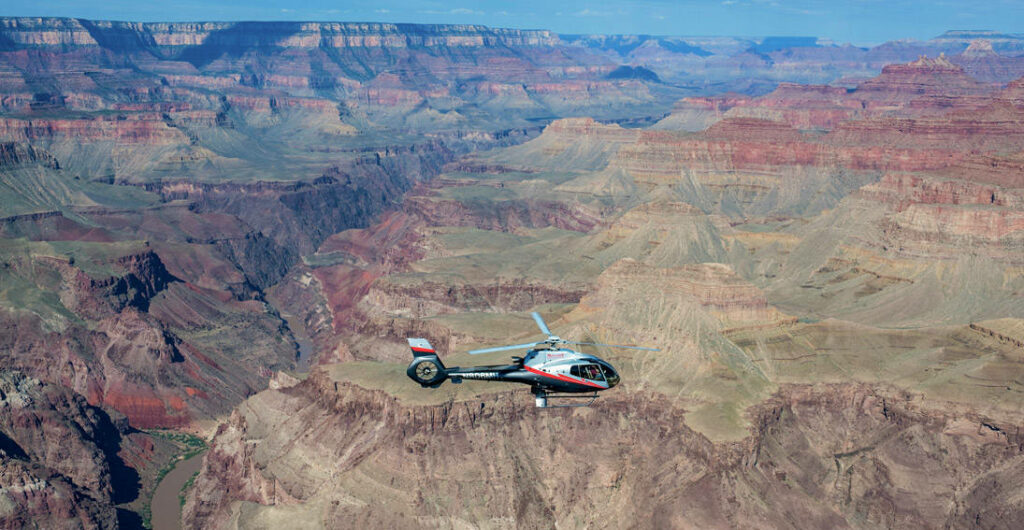 Website: https://www.maverickhelicopter.com/
Contact Number: 888-261-4414
Tour Duration: Approximately 12-13 hours (hotel to hotel)
Rates: Starts at $474 per pax
Maverick Helicopters has been among the largest aviation-based tourism companies worldwide since 1995. They offer guests their Colors and Canyons Tour to the Grand Canyon, which departs from Phoenix or Scottsdale.
The tour includes a 45-minute aerial ride over the canyon, where you'll fly over the Kaibab National Forest, the North Rim, and upstream of the Colorado River. The Painted Desert, the Marble Canyon, and the Dragon Corridor are also part of the tour.
No, you won't be flying directly from Phoenix or Scottsdale. But included in the tour package are round trip transportation to and fro both cities.
Other inclusions of the trip are a guided tour of Williams and the South Rim, admission to the park, and live tour commentaries.
2. Westwind Air Service's Grand Canyon Skywalk and Heli Tour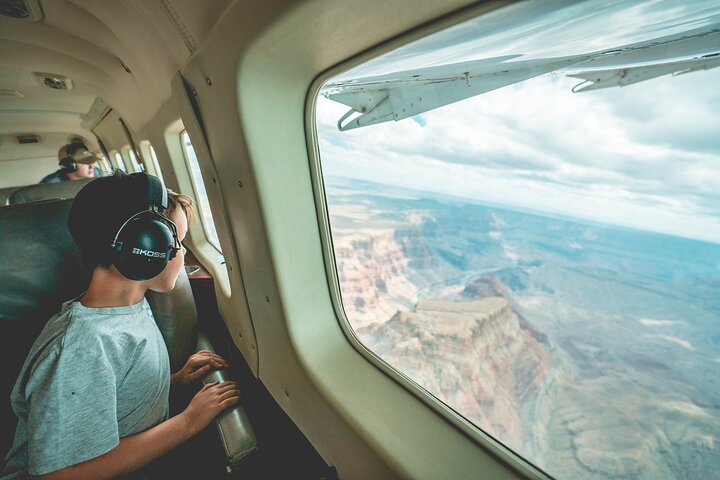 Website: https://www.westwindairservice.com/
Contact Number: +1-480-991-5557
Tour Duration: Approximately 6-7 hours
Rates: Starts at $819 per pax
Westwind Air Service is a local, family-owned business that's been around for over 25 years. They specialize in providing scenic air tours to Sedona, Monument Valley, and the Grand Canyon.
Included in the tour are scenic, narrated flights from PHX to the Grand Canyon's West Rim, a 10-minute chopper ride to the canyon floor, and admission to the Glass Skywalk. You'll also be making a stop at Guano Point for lunch.
Note that this tour isn't suitable for those with mobility challenges. Infants or younger kids are also discouraged to come as there will be a lot of walking involved.
3. 360 Adventures's Grand Canyon Scenic Tour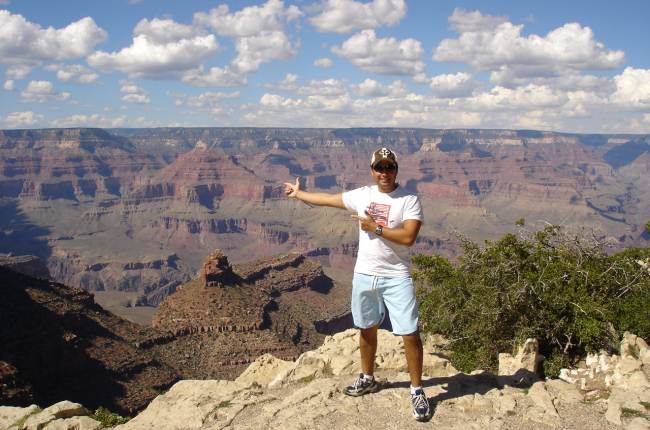 Website: https://www.360-adventures.com/
Contact Number: 480-722-0360
Tour Duration: Approximately 12-13 hours
Rates: Starts at $529 per pax
Another day-long guided helicopter tour is 360 Adventures's Grand Canyon Scenic Tour. It departs from the Phoenix Metropolitan area as it heads to North Arizona.
A few of the package inclusions are roundtrip ground transportation, a 45-minute tour over the Grand Canyon, and all entry fees. Side trips to some of Williams's iconic spots such as Route 66 are also part of the tour.
While this is normally a joiner tour, you can avail of it as a private tour for groups of 1-5 or 6-13 people. Expect additional charges if you'd opt for this.
Getting to the Grand Canyon via Car
The most common and probably the most convenient way from Phoenix to the Grand Canyon is by driving a car. You can take your own, rent a van, or even bring an RV for the long drive.
How far is Grand Canyon from Phoenix AZ?
The distance between Phoenix and the Grand Canyon is approximately 229-miles, which is about a 3-4 hour drive without heavy traffic or stopovers.
Is it easy to drive from Phoenix to Grand Canyon?
The drive from Phoenix to the Grand Canyon is relatively easy, as you'll be taking the I-17 to Flagstaff on well-maintained and -labeled roads. Despite the long duration, it's a scenic one that passes through high deserts and thick forests.
The I-17 passes through Highway 180 to Highway 64. It's 5-minutes quicker to take the I-40 to Highway 64, but Highway 180 is a far more scenic drive.
An alternative route you can take would be from Phoenix to Flagstaff via Sedona. It's a much longer and a relatively more difficult drive, but it passes by Highway 89A through Oak Creek which is among the country's most scenic byways.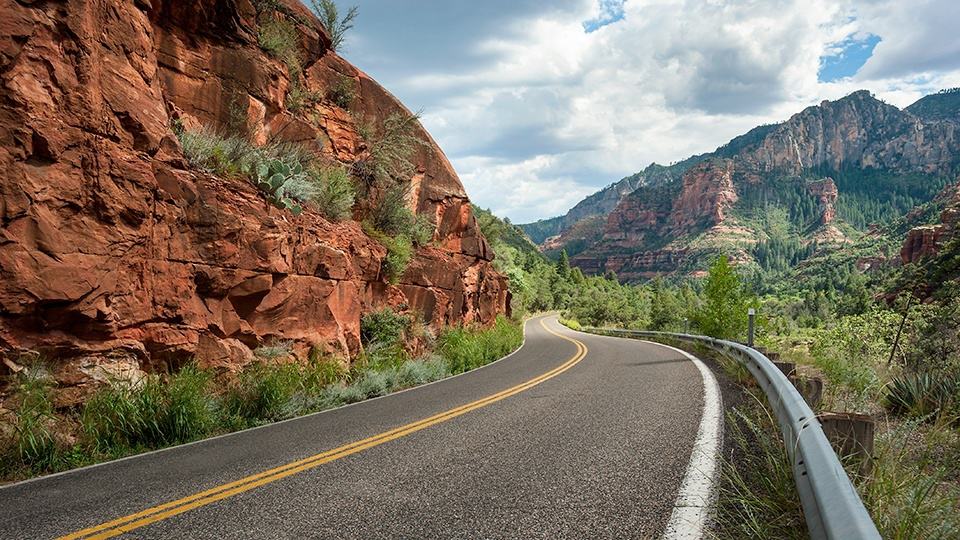 The byway is a twisting road with elevation changes that features beautiful red rock formations. There are several pull off stops, too, that are ideal for taking selfies and family photos.
Is it worth it to drive to the Grand Canyon from Phoenix?
Driving from Phoenix to Grand Canyon is well-worth at least a week's long road trip. This is because there are many attractions you'll pass by on the way, and it would be nice to make a side trip out of a few of them.
What month is best to go to Grand Canyon?
March to May and September to November are ideal in making the trip to the Grand Canyon. This is because the temperature is relatively cooler, and it's not as crowded as the summer months.
What is there to see between Phoenix and the Grand Canyon?
Many people choose to drive up to the Grand Canyon not just to see the place itself, but also for the scenic drive and the many stopovers along the way. Below are some of the places you can visit on your way north.
Montezuma Castle National Monument
Phoenix Sonoran Preserve
Sunset Point
Red Rock State Park
Lake Pleasant Regional Park
Chapel of the Holy Cross
Coconino National Forest
Tonto Natural Bridge State Park
Arcosanti
Jerome
Williams
Sunset Crater National Monument
Now let's go through each one.
1. Montezuma Castle National Monument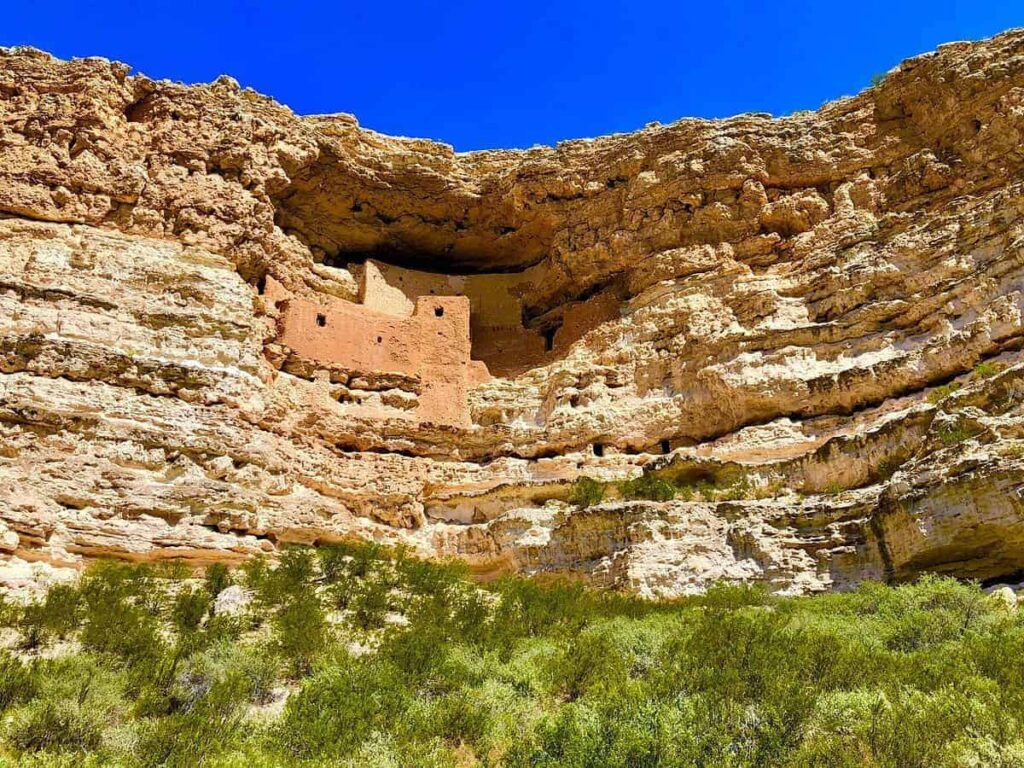 Address: 2800 Montezuma Castle Hwy, Camp Verde, AZ 86322
Contact Number: +1 928-567-3322
Business Hours: Monday to Sunday, 8AM–4:45PM
Admission: $10 per pax
Montezuma Castle is a tall, towering structure of well-preserved dwellings constructed over 3 centuries ago by the Sinagua Indians.
An archaeological marvel, the castle sits approximately 24 meters above the ground and is built into a cavity of a limestone cliff. It is believed that the 5-story building protected them during flood season, and that there are 20 rooms inside.
Unfortunately, you cannot go into the actual dwelling, but it is clearly visible from the walking path. There are tons of educational signs that talk more about its early inhabitants, too.
Nearly 350,000 tourists come to visit the castle every year. Apart from sight-seeing, there's also a museum and a beautiful Sycamore grove near the site.
We're huge history buffs, so this site is a must-visit in our list. Plus, the structure is absolutely breathtaking amidst the beauty of the surrounding cliff.
2. Phoenix Sonoran Preserve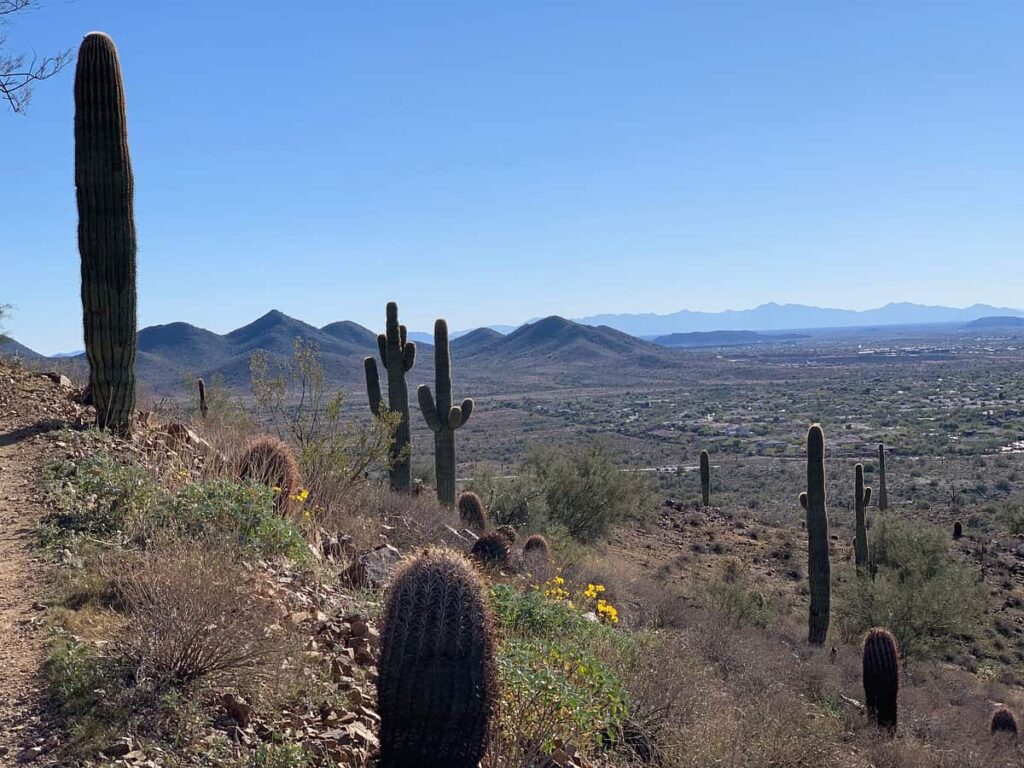 Address: 1600 E. Sonoran Desert Drive Phoenix, AZ 85085
Contact Number: 602-262-7901
Business Hours: Monday to Sunday, 5AM–7PM
The Phoenix Sonoran Preserve is a vast, open desert park that spans over 9,600 acres. It's a popular spot for hiking and biking, with three main trailheads – Desert Vista, Desert Hills, and Apache Wash.
It's a beautiful place to stop and have a picnic, or make a short hiking side trip. Take your pick among 36 miles of its trails – you're bound to find one that you'll like, even if you're a beginner.
3. Sunset Point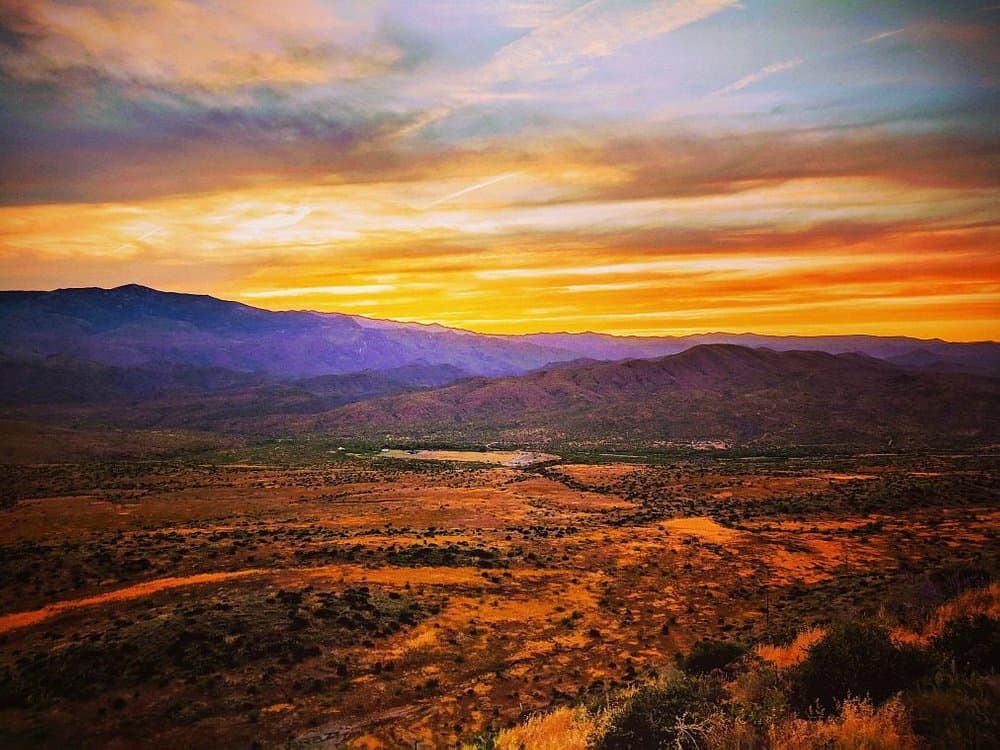 Address: Sunset Point, AZ 85324
Sunset Point is a quick rest stop overlooking Black Canyon City. As the name implies, it truly does give a stunning view of the sun dipping behind the mountains before dark.
Apart from well-maintained restrooms and some vending machines to grab some snacks, there isn't much to do here, though. Still, it's a fairly good stopover for quick bathroom breaks and leg stretches.
4. Red Rock State Park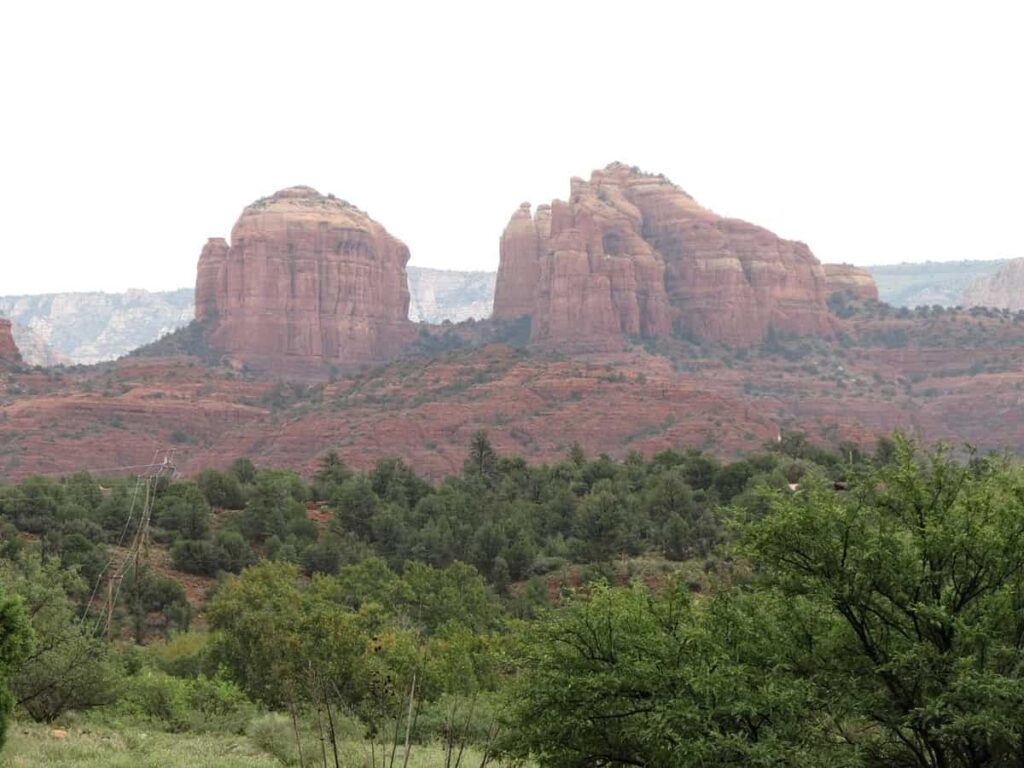 Address: 4050 Red Rock Loop Rd, Sedona, AZ 86336
Contact Number: +1 928-282-6907
Business Hours: Monday to Sunday, 8AM–5PM
Admission: $6 per vehicle
Red Rock State Park is a nature preserve that's over 286-acres big. Like most state parks, it has a ton of hiking and biking trails to choose from, as well as areas for lovely picnics.
What makes the park unique, however, are the deep green meadows amidst contrasting hills of red rocks. Oak Creek also meanders throughout the park, which makes vegetation and wildlife truly thrive inside it.
5. Lake Pleasant Regional Park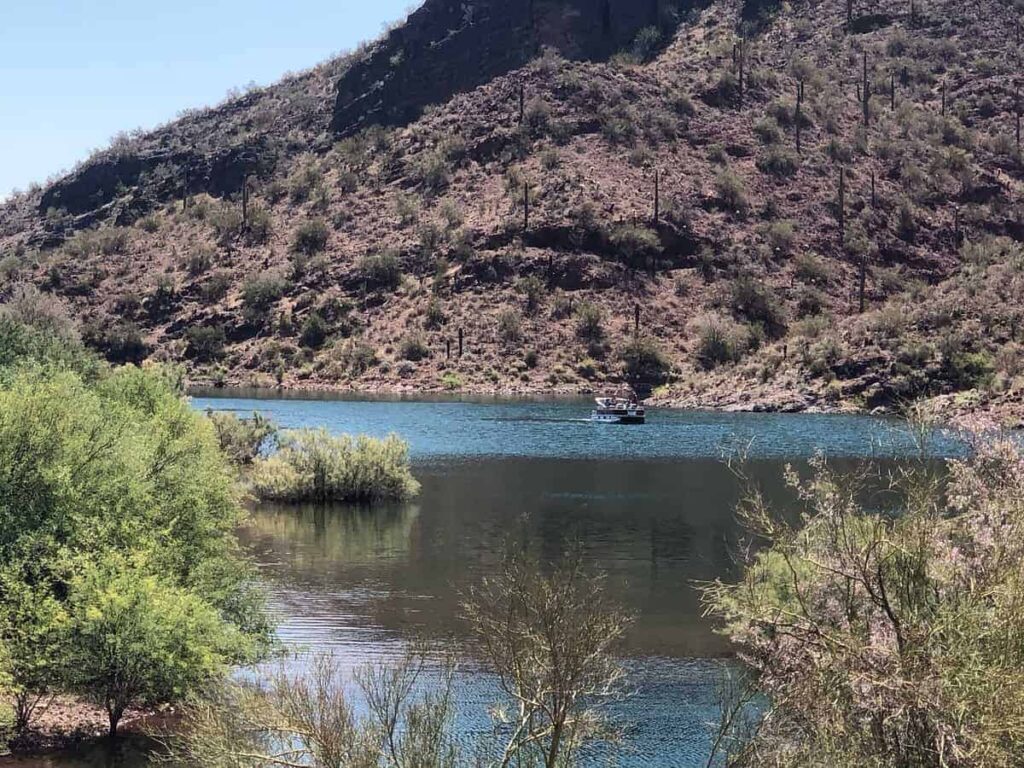 Address: 41835 N Castle Hot Springs Rd, Morristown, AZ 85342
Contact Number: +1 928-501-1710
Business Hours: Monday to Sunday, 6AM–8PM
Admission: $7 per vehicle
Lake Pleasant Regional Park is a popular summer destination for its many water recreation activities. If you want to cool off and take a break from driving, we think this would be an ideal place to do so.
Among the many activities you can do here are swimming, fishing, boating, hiking, and wildlife viewing. Picnics are allowed here, too, as well as camping, if you'd like to stay the night and get some rest.
Note, though, that the water level tends to fluctuate at different times during the year. The water is usually at its highest during spring, and it's relatively low in the fall.
6. Chapel of the Holy Cross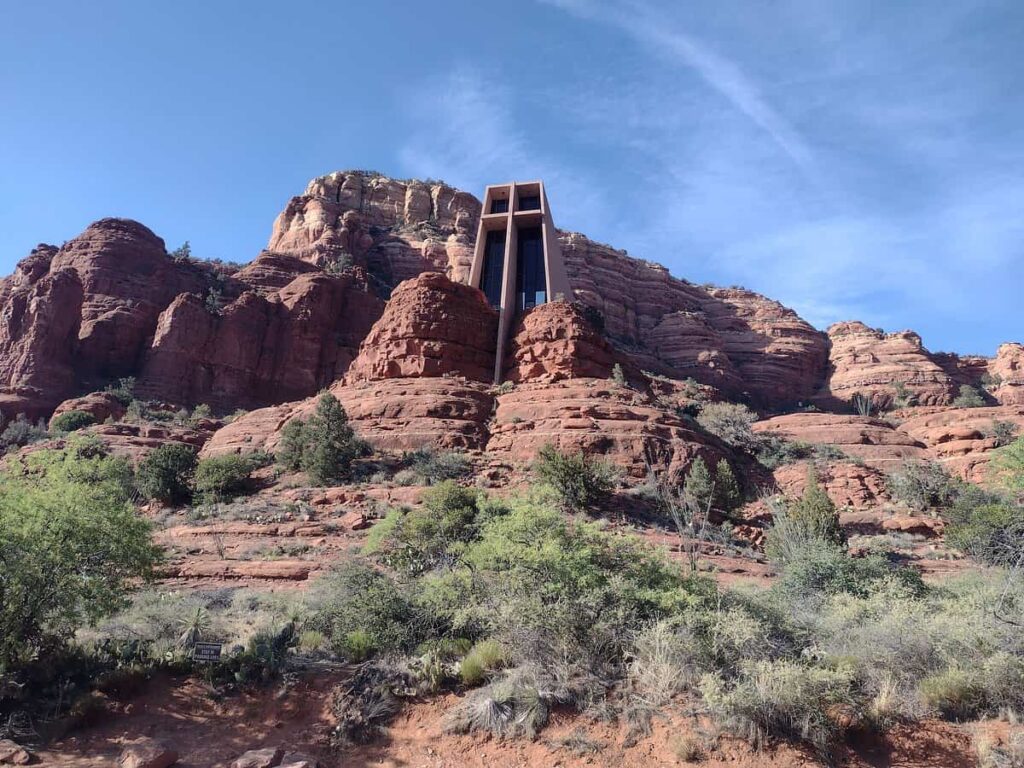 Address: 780 Chapel Road, Sedona, AZ 86336
Contact Number: 928-282-4069
Business Hours: Monday to Sunday, 9AM–5PM
Even if you're not religious, the Chapel of the Holy Cross is a beautiful structure built from 1954 to 1956. It sits atop the vibrant red butted of Sedona and is located inside the Coconino National Forest.
Inside, you'll find that it's a serene and solemn place to rest. It also gives a stunning view of the park and the distant mountains, which makes the entirety of the ambience all the more awe-inspiring.
The chapel's most distinct feature is the tall iron cross inspired from the industrial steel framework of New York City's Empire State Building. In 2011, it was added to the National Register of Historic Places.
7. Coconino National Forest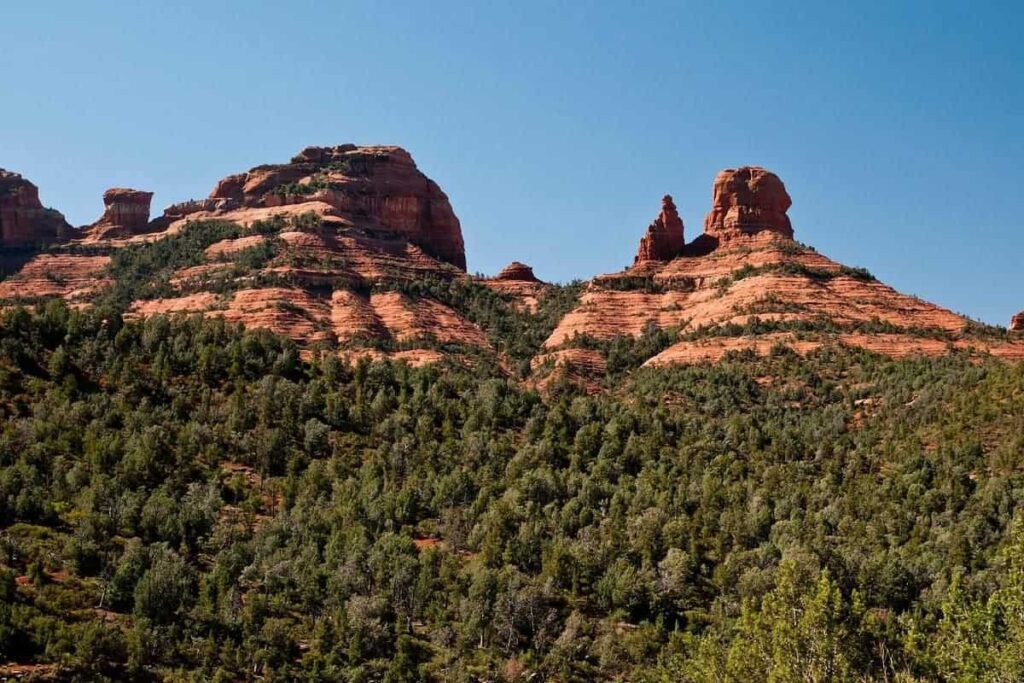 Address: 1824 S. Thompson St. Flagstaff, AZ 86001
Contact Number: 928-527-3600
Business Hours: Open 24/7
Admission: $5 per pax
And while you're in the area, you also must take a stroll around Coconino National Forest. It's one of the most diverse forests in the United States because of its many landscapes – from mountains to canyons, lakes to creeks.
While we suggest taking your time exploring the area, know that you don't need to stop to enjoy the beauty of the forest. It offers passersby a scenic view of the lush flora and fauna; and, you might even spot some pronghorns or prairie dogs!
Other activities to do here include climbing, hiking, fishing, camping, hunting, horseback riding, and more.
8. Tonto Natural Bridge State Park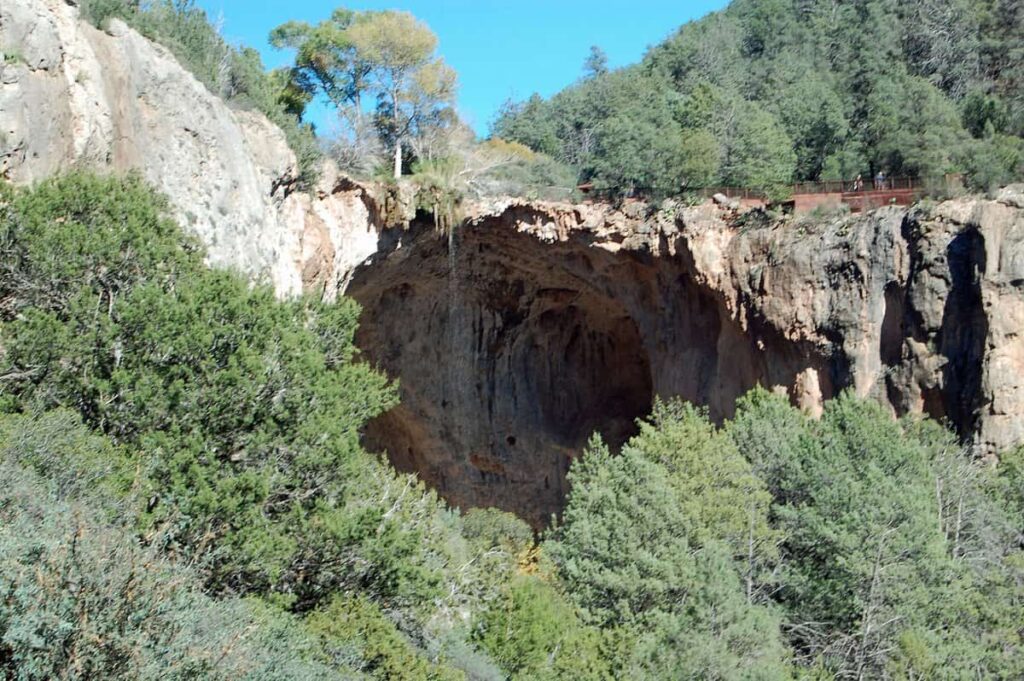 Address: Nf-583A, Pine, AZ 85544
Contact Number: +1 928-476-4202
Business Hours: Monday to Sunday, 9AM–5PM
Admission: $7 per pax
While Arizona is no doubt home to several beautiful state parks, one of its gems is definitely the Tonto Natural Bridge State Park. Its most distinct attraction is the Tonto Natural Bridge, which is said to be the world's largest travertine bridge.
The natural bridge is about 183-feet above ground. Historians believe that it was formed out of water eroding through the travertine from aquifers that carried dissolved limestones and calcium carbonate.
There's also a 400-foot long tunnel inside, as well as 3 hiking trails. Interestingly, you'll also find more informative signs about how the place emerged and its prehistoric dwellers all over the park.
If you're pressed for time, don't fret. The bridge can be viewed from many angles near the parking lot, so you don't even need to come close just to see it.
9. Arcosanti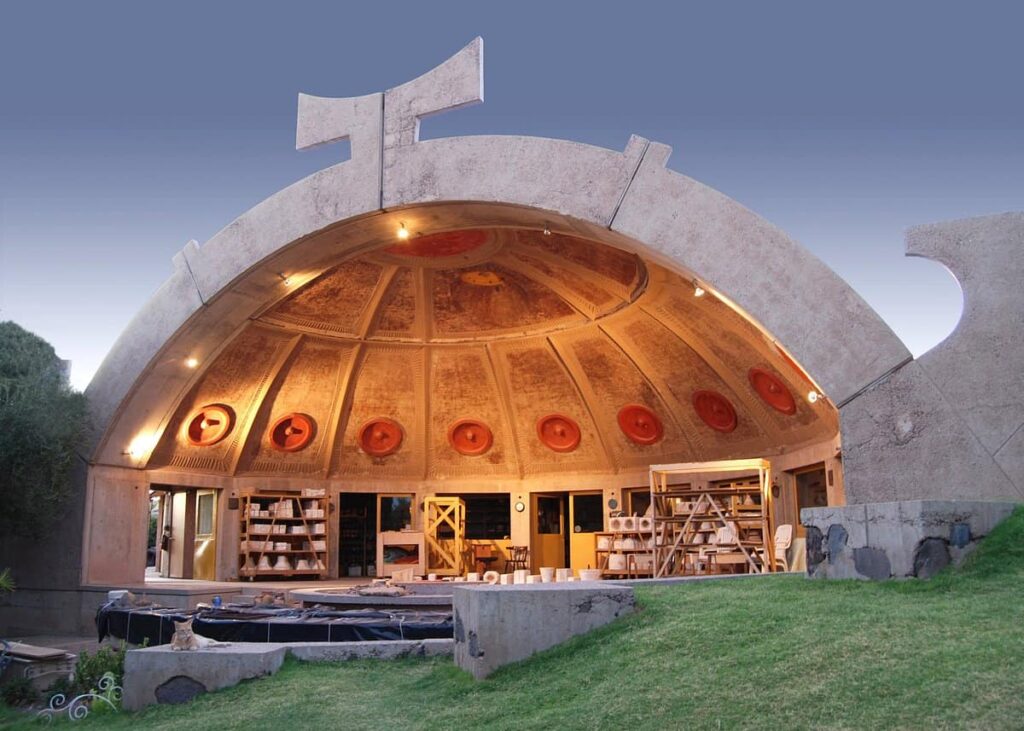 Address: 13555 S Cross L Road, Mayer, AZ 86333
Contact Number: (928) 632-6218
Business Hours: Monday to Sunday, 9AM–5PM
Admission: Starts at $22
Arcosanti was founded in 1970 by The Cosanti Foundation. They describe the place to be the world's first prototype arcology, because it reimagines urban development to be sustainably-integrated into nature.
Their mission is to combine architecture and ecology. They do this by embodying values such as frugality, resourcefulness, ecological accountability, and experiential learning.
One of the notable things you'll notice are the abundance of unique bronze bells that they've casted. It's quite ironic and interesting how the structure looks super futuristic, but the purpose is to step back and encourage slow living.
10. Jerome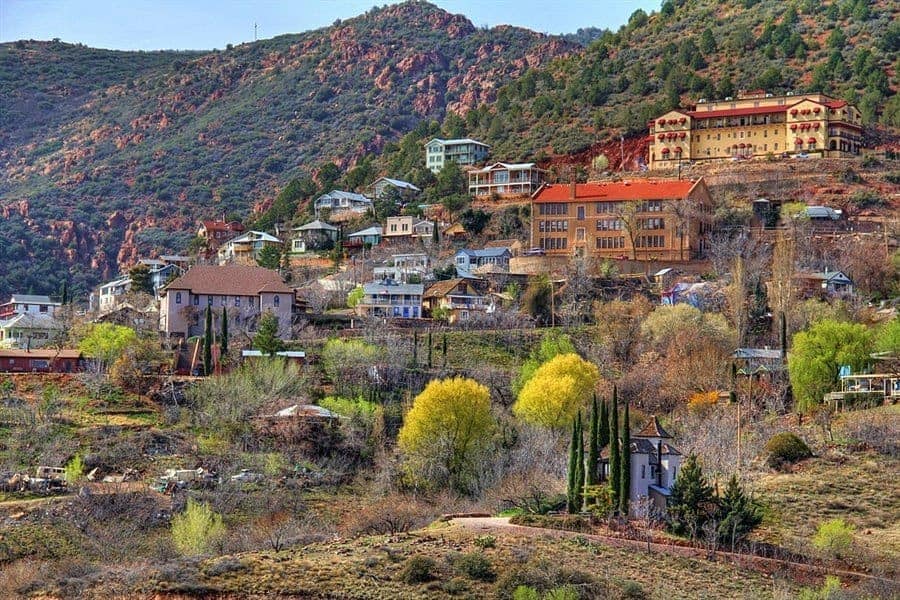 Address: Jerome, AZ 86331
Jerome is a small town located between Prescott and Flagstaff. It used to be "The Wickedest Town in the West", back when it thrived as a copper mining town that drew in miners and rich merchants.
It once was the fourth largest city in Arizona, population-wise. Today, the city has less than 500 residents and has transitioned into becoming a tourist hub that welcomes tens of thousands of visitors every year.
Despite its reputation as a "ghost town", people come to see it for its rich history and stunning sceneries. You'll notice how much it evokes that interesting, old town vibe that's quite rare to see in the state.
11. Williams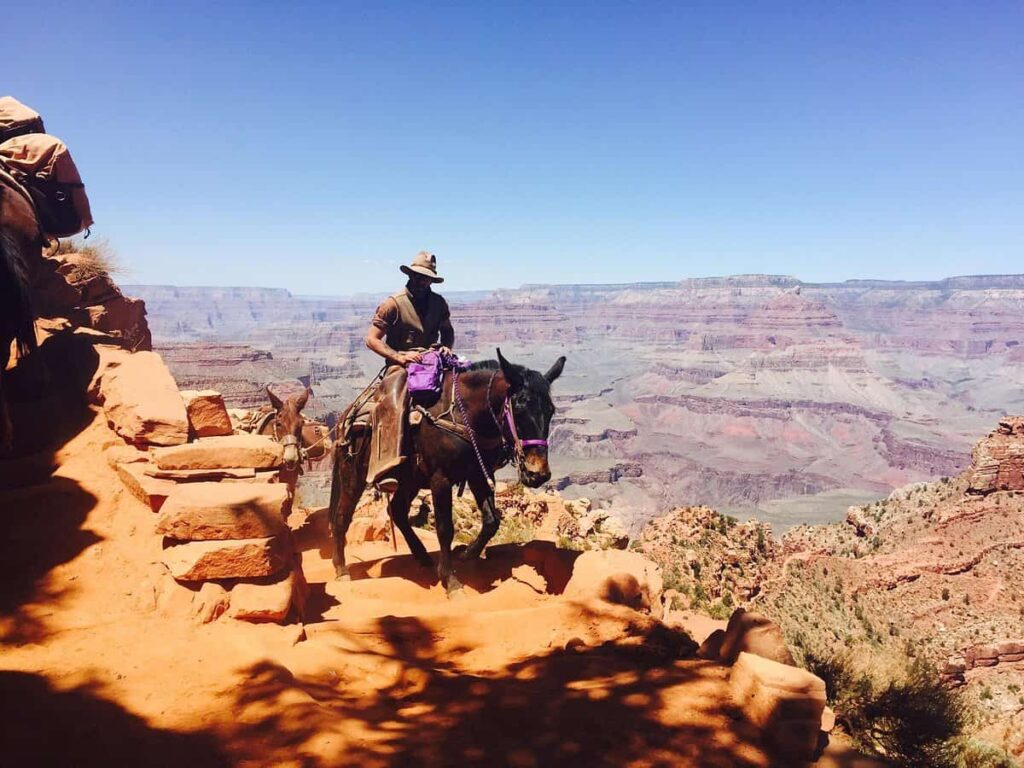 Address: Williams, Arizona 86046
Williams is another small town in Arizona that serves as the gateway to the Grand Canyon. Still, the place holds its own as a destination with many sights to see and things to do.
For one, it's mostly known for historic highway memorabilia and old western shootout plays along Main Street. It looks and feels as though you're in the Wild West, complete with cowboys, restored railway cars, and horses roaming around.
It's also where you'll find the recently refurbished Grand Canyon Railway Hotel, which is a popular accommodation for those traveling to see the Grand Canyon.
12. Sunset Crater National Monument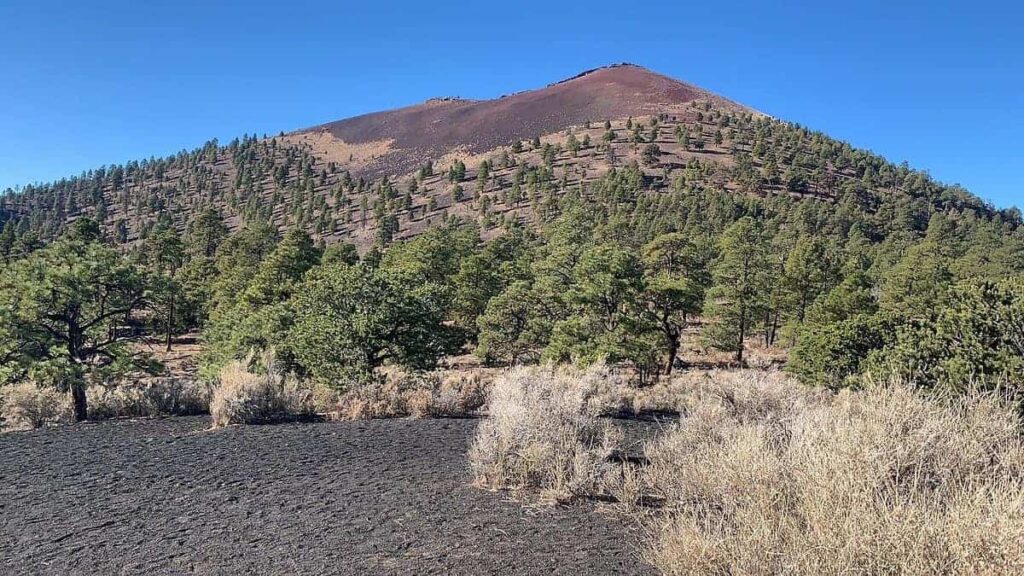 Address: 6082 Sunset Crater Road, Flagstaff AZ, 86004
Contact Number: 928-526-0502
Business Hours: 9AM–4PM
Entrance Fee: $25 per vehicle
The Sunset Crater National Monument lies within the outskirts of Flagstaff. It's a historical dormant cinder cone volcano that first erupted back in 1085.
Thousands of years later, the volcanic eruptions formed unique features that people stop by to see. The Bonito lava flow completely changed the original landscape and the ecological nature of the area.
While it's not possible to hike the volcano all the way, you can still hike to a certain point, or see a great deal of it from the viewpoint. It's quite a sight to behold and we highly recommend making a side trip out of it.
What should I take on a long road trip?
Long road trips require thoughtful planning and packing. Here are a few road trip essentials you shouldn't forget to bring.
1. Driver and Car Documents
Never ever leave important documents for long drives such as your license, car registration and manual, and insurance policy. Make sure to double check that you have all of these on-hand before leaving for your trip.
2. Roadside Emergency Kit
It goes without saying that you need a roadside emergency kit with you, especially if you plan on going far. We suggest getting one that's a little more expensive with more tools inside, as it always pays to be prepared for any type of road emergency.
A few essentials to keep with you are battery charger cables, window breakers, air compressors, and a spare tire. We also recommend availing a Roadside Assistance Membership for that extra peace of mind.
3. Physical Maps
Yes, physical ones that you can hold. GPS won't always be reliable in places with faulty connections, so it's best to have a safety net.
Also, learn to read your map and navigate through it. Local tourist offices often have several maps for sale.
4. Lots of Water and Snacks
Staying hydrated is a necessity for road trips, especially on ones as hot as Arizona. You won't always be guaranteed stopovers that have clean, potable water, so just bring your own – lots of it.
The same goes for snacks. There won't always be a restaurant or working vending machines around, so pack some light snacks to get you through the long hours of sitting and driving.
5. First Aid Kit
No surprises here – first aid kits are vital on family trips or long drives. This is especially true if you plan on stopping along places that require physical activities or have mosquitoes, bees, wild animals, or even snakes.
As you may already know, snakes are common in Arizona. If you can, stock your car with a snake bite kit in case of an unfortunate encounter with a slithering creature.
Ideally, your kit should have bandages, gauze pads, antiseptics, and medicine for pain relief or nausea. Have you ever had a headache while on a long trip? It's a nuisance!
How often should you stop and stretch on a road trip?
A good rule of thumb to follow is to stop and stretch for 15 minutes every 2 hours' worth of driving. This helps keep your mind and body alert for long drives.
---
Ready to hit the road? We'd love to hear all about your trip to the Grand Canyon, so sound off in the comments section below!