Categories >
Guides and Tips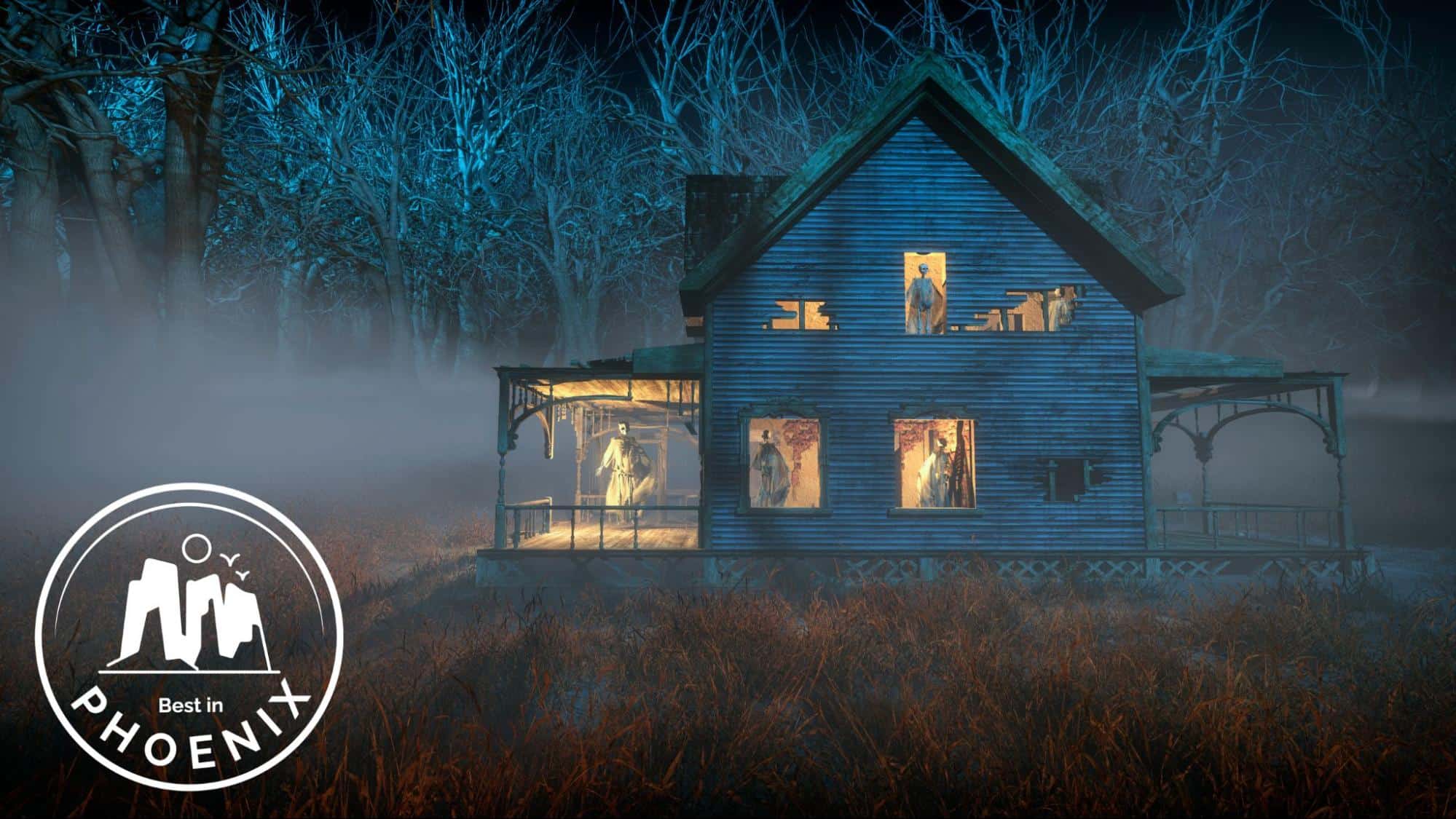 The 13 Spookiest Haunted Houses in Phoenix
If you're a fan of ghost stories and spirited encounters, then you're in luck because Phoenix sees no shortage of those. Across the valley, there are tons of spooky sites and scary places you can come visit.
You've probably heard of haunting tales in the old, majestic building of the Orpheum Theater, Hotel San Carlos downtown, or even the north wing of Chandler High School. 
But for fun's sake (albeit, eerily), we'll be taking you through some of the best, most terrifying haunted houses in and around PHX.
Most of these chilling places open up right around Halloween. So if you're looking for something else to do – apart from pumpkin picking – then keep reading.
Best Haunted Houses in Phoenix
There are several haunted houses you can visit near and right here in Phoenix. Below are some of the top-rated and scariest ones.
Fear Farm
13th Floor Haunted House
Scarizona Scaregrounds
Golfland Fright Nights
Sanctum of Horror
The Crypt Haunted Attractions
Yuma Nightmares Haunted House
Mount Mayhem Haunted House
Haunted Graveyard
Terror in Tolleson
42nd Haunt
House of Fear
Superstition Asylum
Put your brave face on as we take you through each one.
1. Fear Farm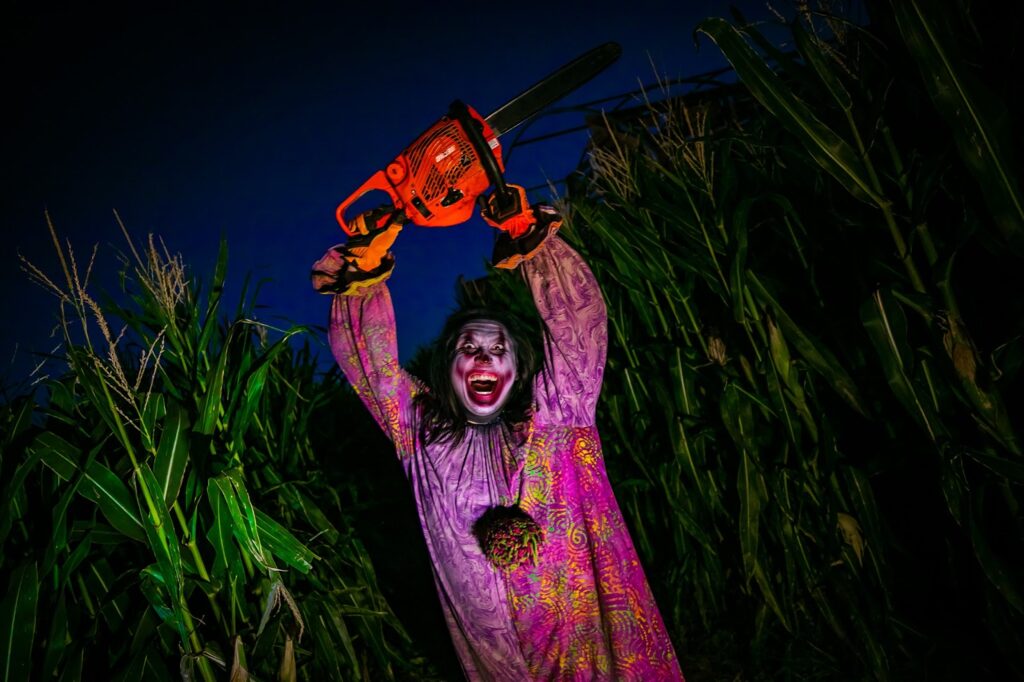 Website: https://fearfarm.com/
Address: 6801 N 99th Ave, Glendale, AZ 85305
Contact Number: (623) 866-5378
Opening Hours: (October to November) Sunday to Thursday, 7PM–10PM; Friday, 7PM–12AM; Saturday, 6:30PM–12AM
Admission Fee: Starts at $27.99
Okay, so it's not exactly a house, but Fear Farm is easily one of the scariest, most fun places in the entire state. It's 30-acres worth of both indoor and outdoor chilling attractions, located within the outskirts of Glendale.
Every year, they present new attractions with a few different themes. Usually, they'll have haunted houses with a criminal outcast, wandering spirits, undead carnival folk, and some occasional sea monsters.
What's great about this place is that they're family-friendly. So if you plan on bringing kids with you or you'll be going with your friends, there are attractions that cater to any level of scary you'd prefer.
Don't worry, there are usually disclaimers and warnings as to which attractions would be okay for kids aged 12 and below.
Even more impressive is how eerily accurate sets that they typically have are. Seriously, we're always so in awe of how life-like the houses, the props, the costumes, and even the makeup of the actors are.
We also love how convincing the actors are. It's not uncommon for haunted houses to be sort of cheesy with mediocre acting, but these guys have been doing this for a long time and they're able to really get into character.
And if you often fall victim to jumpscares, then be prepared to tough it out here. There are actors who roam around the entire farm and won't hesitate to catch you off guard – even when you're coming out of the bathroom.
All things considered, we highly-recommend giving this ominous farm amidst the desert a visit. We think it'd be a nice fall tradition that you and your family can try out.
2. 13th Floor Haunted House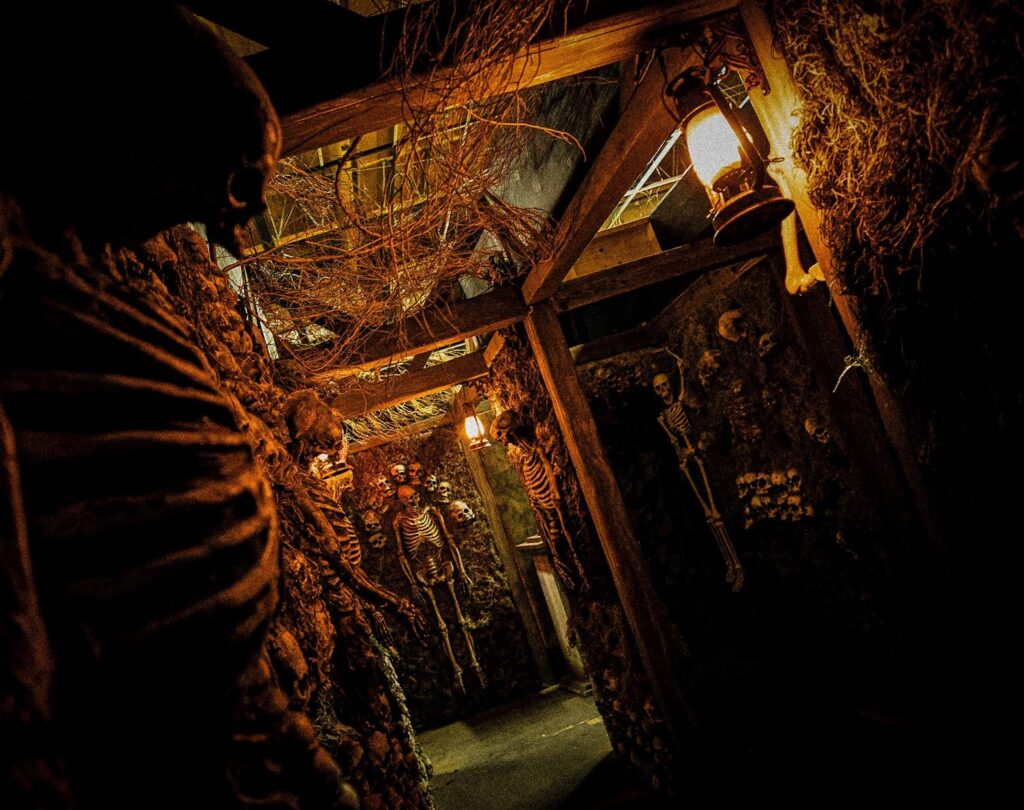 Website: https://13thflooraz.com/
Address: 2814 W Bell Rd, Phoenix, AZ 85053
Contact Number: (602) 456-2250
Opening Hours: (October to November) Thursday and Sunday, 7PM–10PM; Friday to Saturday, 7PM–12AM; Monday to Wednesday, CLOSED
Admission Fee: Starts at $29.99
13th Floor Haunted House is another popular scary attraction right when Halloween season rolls in. It's a cool maze of dark hallways, realistic props, and an amazing soundtrack that adds to the thrill of it all.
It's presented by Thirteenth Floor Entertainment Group, which is one of the largest Halloween entertainment companies nationwide. So, you can expect a premiere experience that'll have your heart pounding and your adrenaline rushing.
Here, you'll be finding your way around complete darkness and will be forced to rely on your other senses to make it through. We think it's absolutely smart of them to have sensory rooms where you'll need to smell, listen, or even duck to find the exit.
We also really love how well-done the place and attractions are. Props are on point, actors are great in character, and the effects are obviously professionally done.
It's a highly physical experience. Mostly, you'd really need to use your hands and squeeze through some tight and disorienting spaces, so if you tend to be claustrophobic, then this might not be the best experience for you.
The entire walkthrough will take you about 40 minutes to complete. By then, you would've had some major jumpscares and definitely a lot of screams.
The only downside from this place's popularity is that it tends to get crowded and the lines can get so long. We recommend purchasing a fast pass for an additional $8, so you don't have to waste much time waiting for your turn.
3. Scarizona Scaregrounds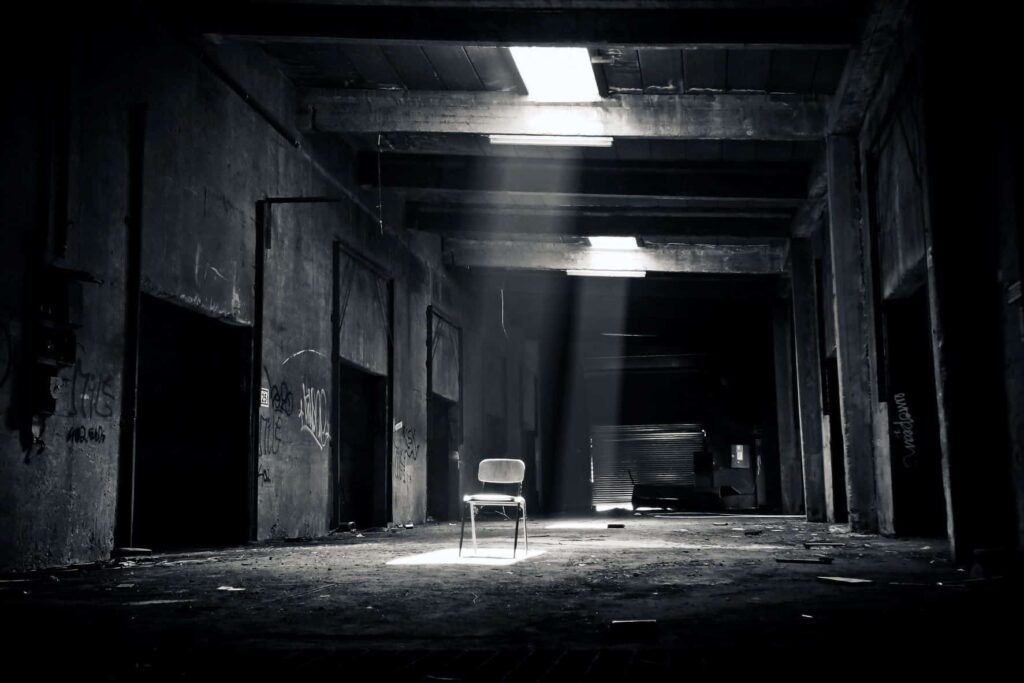 Website: https://scarizona.com/
Address: 1901 N Alma School Rd, Mesa, AZ 85201
Contact Number: (480) 444-2590
Opening Hours: (October) Thursday to Saturday, 7AM–10PM; Sunday to Monday, 7AM–9PM; Tuesday to Wednesday, CLOSED
Admission Fee: Starts at $24.95
Scarizona Scaregrounds is a straightforward haunted attraction with two main houses. The smaller one mostly has cary animatronics, but it's the bigger house that takes the pumpkin cake.
For starters, the big haunted house is a myriad of frightening rooms, scenes, and crazily realistic sets. It's pitch black in some areas, and you'll probably have someone – we won't spoil you who or what it is – following you around throughout the house.
We're firm believers that actors play a huge role when it comes to these kinds of experiences, and the actors really truly nail their assignments. There are a lot of them, too!
The central theme changes each year, but we always notice a lot of chaos, mayhem, and madness. It seems that they thrive on interesting and frightening storylines, rather than the usual jumpscares (although, there are quite a bit of those, too).
Impressively, the experience starts as soon as your car enters the parking lot. If you're listening to the radio, you'll probably hear some interference and eerie music to immediately set the tone of the evening.
We thought that was a nice little touch that we haven't seen in other haunted houses.
Note, however, that the place isn't suitable for kids under the age of 12. Some of the attractions are just too scary – which is perfect, if you came here for the fun of being terrified.
4. Golfland Fright Nights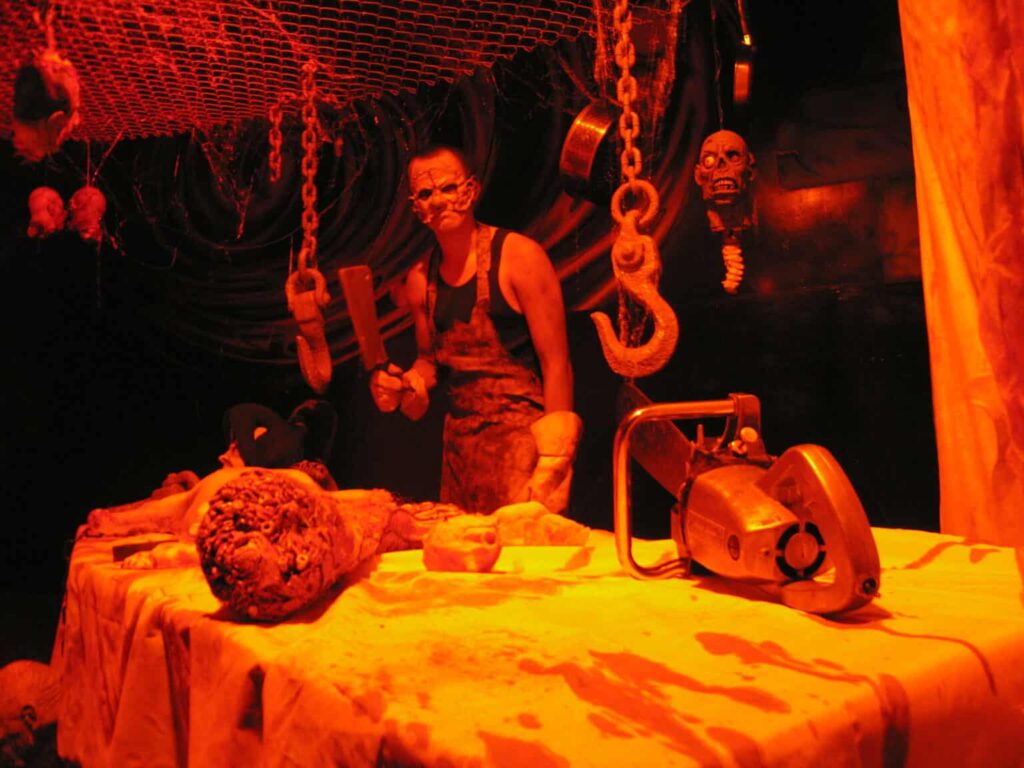 Website: https://www.golfland.com/
Address: 155 W Hampton Ave, Mesa, AZ 85210
Contact Number: (480) 834-8319
Opening Hours: (October) Thursday and Sunday, 6:30PM–10PM; Friday to Saturday, 6:30PM–11:45PM; Tuesday to Wednesday, CLOSED
Admission Fee: Starts at $25
Golfland Fright Nights at Golfland-Sunsplash is one of the more unique haunted house experiences you can go on.
Most Octobers, they transform their regular golf course into a terrifying one complete with the award-winning Gauntlet Haunted House and Spooktacular Golf. Can you imagine playing a round of gold through a graveyard at night? Spooky!
What people really come to see, however, is the Gauntlet. It's a scary maze inside a multi-level house with breathtaking animatronics, professional special effects, and equally professional actors.
Unlike other haunted houses where you'll simply walk through the maze, you'll have to do some climbing, crawling, and even jumping across in this house. It's absolutely thrilling and immersive, and we love the attention-to-detail they've put into every single room.
Because of how terrifying it is, it's not recommended for children under the age of 13, or those with heart conditions.
But a good alternative would be to play Spooktacular Golf. It's usually a mini golf course that they deck in scary decorations with actors roaming around.
It's not super scary, but it is spooky enough to be intriguing and fun. Plus, we think it'd be a good family activity that even younger kids will enjoy.
Unfortunately, they don't open the Gauntlet Haunted House every year, so keep your eye out on their website for any announcements. Spooktacular Golf is an annual thing, though!
5. Sanctum of Horror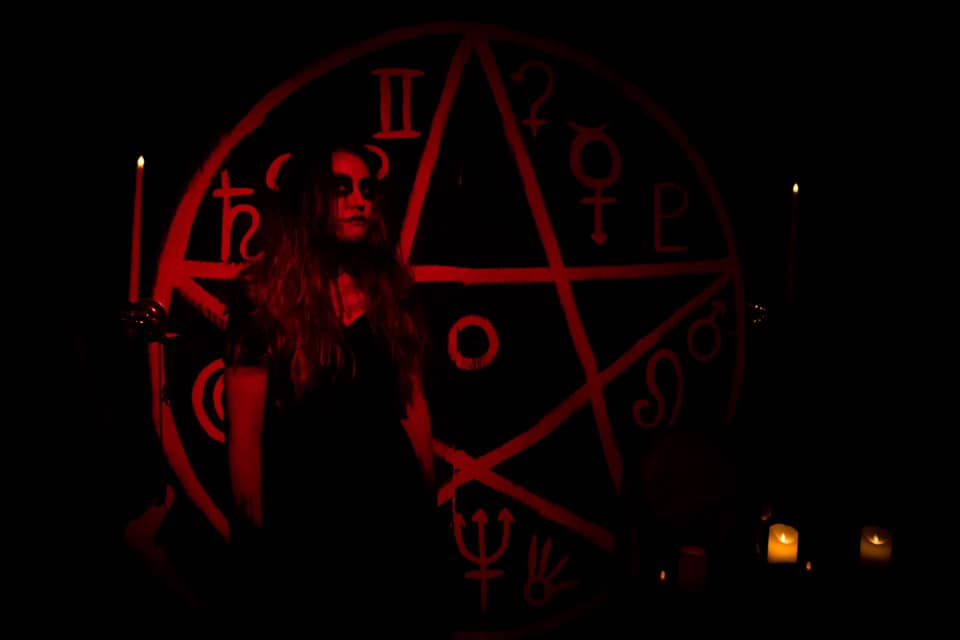 Website: https://www.sanctumofhorror.com/
Address: 6525 E Southern Ave, Mesa, AZ 85206
Contact Number: (480) 200-8163
Opening Hours: (October) Friday to Saturday, 7PM–11PM; Sunday and Thursday, 7PM–10PM, Monday to Wednesday, CLOSED
Admission Fee: Starts at $25
The Sanctum of Horror, as you might've already guessed, is a themed asylum horror house with madness and evil at its core. It's definitely not for the faint of heart.
The main character of the twisted story is Leonore, whose mind you'll be walking into as you relive her violent past. You'll be walking through her decaying childhood house and will be witnessing the brutal demise of her family.
That's not even the entirety of it. You'll also be walking across an undead graveyard on your way to St. Charlotte Asylum, where Leonore resides in her cell.
Be warned: she doesn't take kindly to intruders in her mind.
This particular horror house is one of our favorites for its terrifying plot and astounding sets. So much attention to detail has been put in every setting, and even the actors are some of the scariest ones we've seen around.
They won't touch you, but there might be some chasing involved.
Another unique detail we actually like is that there are no overproduced sound tracks and effects. The vibe is as authentic as it could get, and quite frankly, the loud silence and footsteps on creaking floors are so much more chilling.
The other haunted house just beside Leonore's is The Breach, which tells a completely but equally scary story. Think 1953 in a military bunker in the middle of the desert.
It's an experiment-gone-wrong kind of situation with corpses and unidentified creatures, and you'll need to find your way out.
We prefer scary stories with ghosts and spirits in it, but we did also find the experience terrifying.
With how everything was laid out, you wouldn't believe that you're just in a mall parking lot. It's honestly pretty expensive and well worth the splurge.
6. The Crypt Haunted Attractions
Website: https://www.hauntedaz.com/
Address: 1445 W Southern Ave. Mesa, AZ 85202
Contact Number: (480) 839-3397
Opening Hours: (October) Wednesday to Thursday and Sunday, 7PM–10PM; Friday to Saturday, 7PM–12AM; Monday to Tuesday, CLOSED
Admission Fee: Starts at $25
One of the state's oldest haunted house attractions is The Crypt Haunted Attractions. Contrary to other houses where you'll be climbing stairs, you'll be descending into, well, a crypt where the undead are waiting for you.
It's not all just zombies and decaying creatures, though. There's actually a creepy storyline that'll lead you into an asylum to meet Dr. Vantas, the ruthless scientist who might even make you his test patient, if you're not careful.
The best way we could describe the crypts is pure chaos. Not that you'd be running around (though for some parts, you might), but it's filled to the brim with props, special effects all throughout, and actors just popping out of the most unexpected places.
The deeper you go into the mazes, the more horrid things you'll find. The point is to make you feel like there's no way out, and in the moment, you'll probably be thinking the same, too.
The experience was truly one of the scariest ones we've had for a haunted house. Sadly, they don't open every year, so make sure to check their website every now and then for announcements.
7. Yuma Nightmares Haunted House
Website: https://yumanightmares.yumawebteam.com/
Address: 15485 S Avenue 4 E, Yuma, AZ 85365
Contact Number: (928) 304-2711
Opening Hours: (October) Thursday to Saturday, 7PM–10PM; Sunday to Wednesday, CLOSED
Admission Fee: Starts at $10
Yuma Nightmares Haunted House had a humble beginning in 2001 with just 1 person in a relatively small apartment. Eventually, the business kept growing into what is now a 2-acre lot with a full house – literally and figuratively.
During the spooky season, people would often line up from blocks away just to experience the horrors that await them in the house. The location is right outside of town, which is great because you'd hear the screaming before you even see the place.
While there's nothing remotely unique about the house, it does still give a good scare. You'll encounter the typical jumpscares, ghosts in the corner of your eye, amazing visuals production, and chilling music.
Plus, the actors are great and the makeup makes them look super realistic. Frankly, the experience was way better than we expected, which is why we think they're worth a visit.
It's good ol' scary fun that even kids will enjoy for relatively affordable rates! Make sure to book tickets in advance if you don't want to wait in line for long.
8. Mount Mayhem Haunted House
Website: https://www.mountmayhemhaunt.com/
Address: 1740 E Purdue Ave, Phoenix, AZ 85020
Contact Number: (602) 507-7160
Admission Fee: Free
Mount Mayhem Haunted House is in the backyard of a private residence designed by kids and the parents residing there. Apparently, they're really big on Halloween and genuinely enjoy giving trick-or-treaters a good fright.
The haunted house is open only for a few days leading up to October 31. Admission is complimentary and free, but they welcome donations.
Right off the bat, the ambience is super creepy with the sound of crickets and hanging Spanish moss. The backyard bayous with several blood-feasting creatures practicing voodoo magic.
Think of a gothic Victorian mansion, but set it on an eerie swamp. The actors might pursue you, but the unexpected jumpscares are what really got us.
If you're a self-confessed scaredy cat who still wants to get into the spirit of spooky season, then we think this'd be a perfect stop for you to visit. Bring a friend along to hold your hand.
As for the attractions themselves, we think it's quite impressive what they were able to do within the space. To be frank, it looks as though the place was professionally-designed – and they change themes every year, too!
9. Haunted Graveyard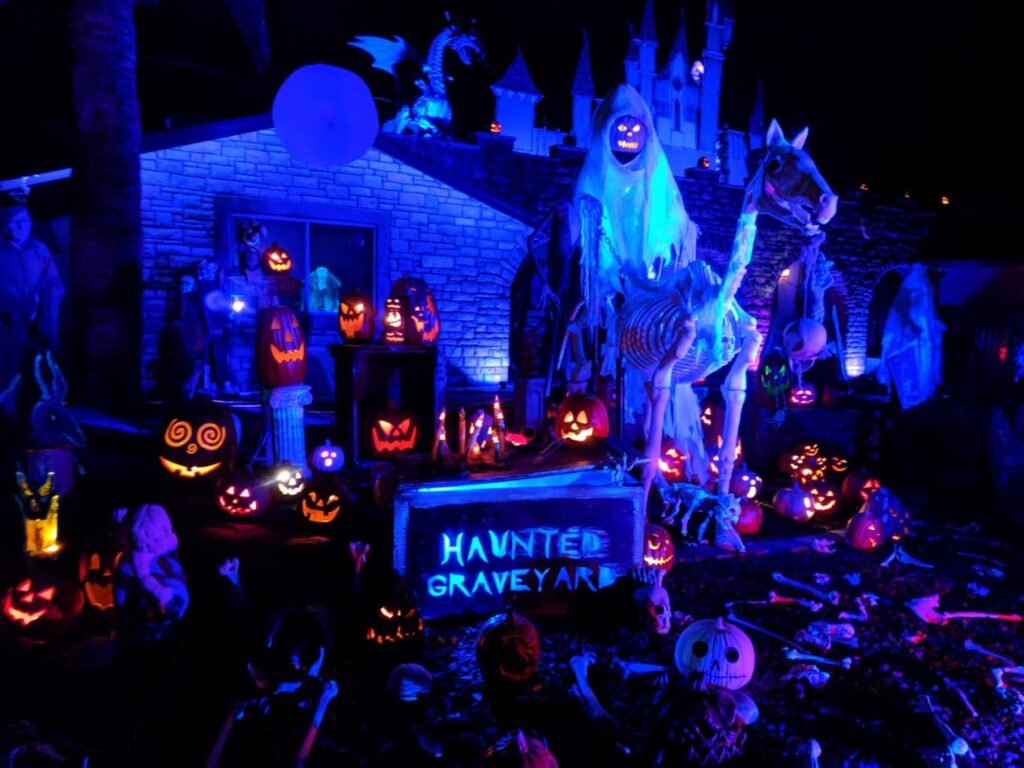 Website: https://hauntedgraveyardaz.com/
Address: 8414 E Valley Vista Dr, Scottsdale, AZ 85250
Opening Hours: (October 27-31) 6:30PM–10:30PM
Admission Fee: Free
Another creative home haunt we love visiting is the Haunted Graveyard. Located within Scottsdale, this haunted house is a labor of love and it shows in the exceptional execution of the place.
The cool thing about this house is that it doesn't even need actors to give you a fright. The decorations, the props, the illusions, the fog, and the music are all creepy enough to give you goosebumps.
It's only a 13-minute walkthrough, but it feels longer because there's truly so much to look at. We've seen our fair share of haunted houses, but this one stood to us because of how amazing the scenes were.
Admission to the house is completely free, but they welcome donations (with a suggestion of a $5 minimum). We don't mind, as we love supporting local and neighborhood artists.
The place is open from October 27-31 yearly. Usually, you'll find snaking lines outside the house, so we suggest coming early if you want to experience it for yourself.
10. Terror in Tolleson
Website: https://terrorintolleson.com/
Address: 9210 W Van Buren St, Tolleson, AZ 85353
Contact Number: (602) 303-0179
Opening Hours: (October 27-31) 5PM–11PM
Admission Fee: Starts at $25
Terror in Tolleson began as just another home haunt. But because of how amazing their designs and setups are, they were able to turn the business into a full-fledged professional haunted house.
The owners are passionate about scaring people. Now we know that sounds weird, but hey, there are people who love Halloween for the fun of giving a fright!
What's great about this place is that it's family-friendly with just the right amount of creepy. And if you're entering the haunted house, it'll be exclusively for you and your group.
And contrary to a lot of haunted houses, the actors are actually allowed to touch you here! It makes it all the more scary and convincing, and visitors have a blast running around the hallways just to get away.
Isn't it more fun to enjoy a haunt that's not crowded with people you don't know? Even though the wait in line is relatively longer because of this, a lot of people don't mind.
If you have young kids with you and are unsure as to whether or not they could handle the house, the place offers Ghost Walk Tours, too! These are non-scare tours that happen right around sunset through different mazes and sets.
Surprisingly, the tour is creepy in itself. We love how they were able to incorporate tiny details like illusions on trees and creepy ghosts here and there (or maybe those were real ghosts?).
11. 42nd Haunt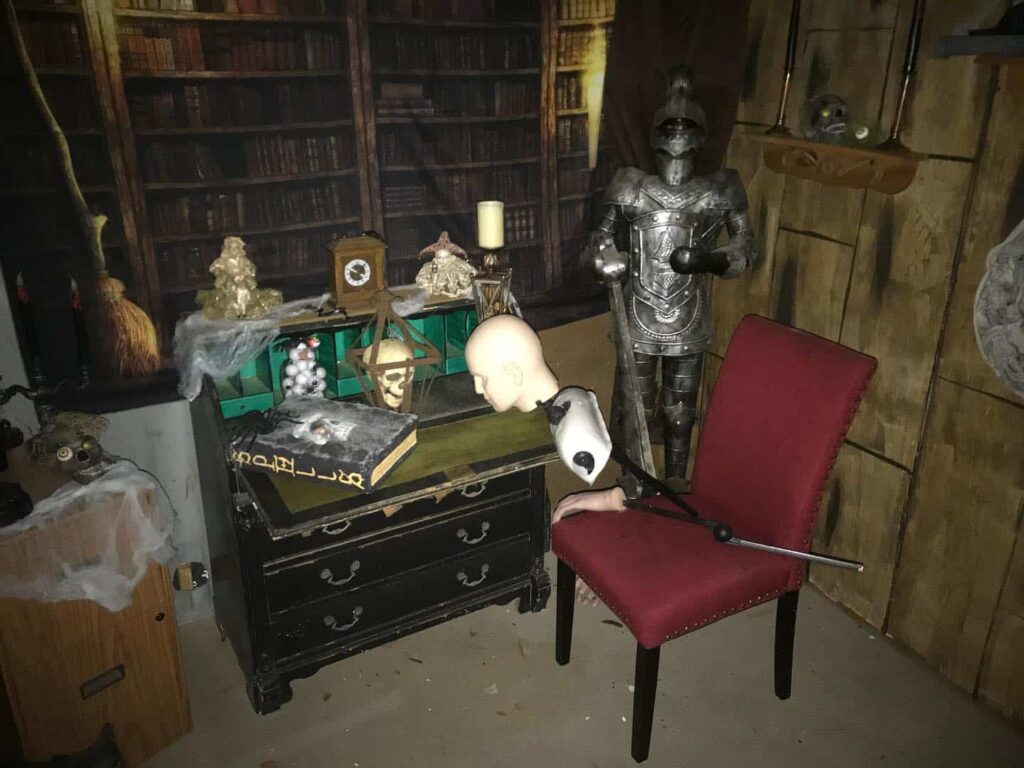 Website: https://www.42ndhaunt.com/
Address: 4226 W Park View Ln, Glendale, AZ 85310
Contact Number: (602) 303-0179
Opening Hours: (October 21-31) 6PM–10PM
Admission Fee: Free
42nd Haunt is another home haunt that we think is masterfully and creatively done. It's operated by the family living in it, and they welcome suggested donations of $5 per guest.
Here, the setting is a castle and a cemetery. As you walk through, you'll encounter the undead and some angry spirits with unfinished businesses – be careful not to get in their way, or they might take you to the grave.
The costumes, props, and visual effects are bone-chilling and the scare timing is on point. The actors are great, too, and they don't break character at any point.
If you have younger kids, they do also have non-scare tours from 6PM to 6:30PM. Have fun walking through the creepy paths and snap a ton of family photos!
We find this place to be a really great neighborhood haunt that meets and will probably exceed your expectations. The theme changes every year, so there's always something new to see.
12. House of Fear
Website: https://www.houseoffearaz.com/
Address: 13837 N 181st Ave, Surprise, AZ 85388
Contact Number: (602) 290-0966
Opening Hours: (October 22-31) 6PM–10PM
Admission Fee: Free
Still on the home haunts, House of Fear is another one that deserves a spot on this list. They go full-on Halloween mode each year – complete with escape rooms, gellyballing, axe throwing, escape rooms, and a really spooky haunted house.
What we like about this place is how family-friendly it is. It's not super scary, but it does have a lot of realistic props and sets that are quite creepy, especially for young kids.
The haunted house is typical – in our opinion – but the actors and the visual effects make it a heart-pounding experience. And for what it's worth, we found ourselves terrified at certain points.
Coming here feels as though you're attending a Halloween party. While it's all dark and creepy inside, outside is a different story.
People are enjoying themselves at several booths, taking pictures at many scary photo spots, and grabbing some Halloween candy. Think of it as a super small spooky fair – one where everyone is having a great time.
13. Superstition Asylum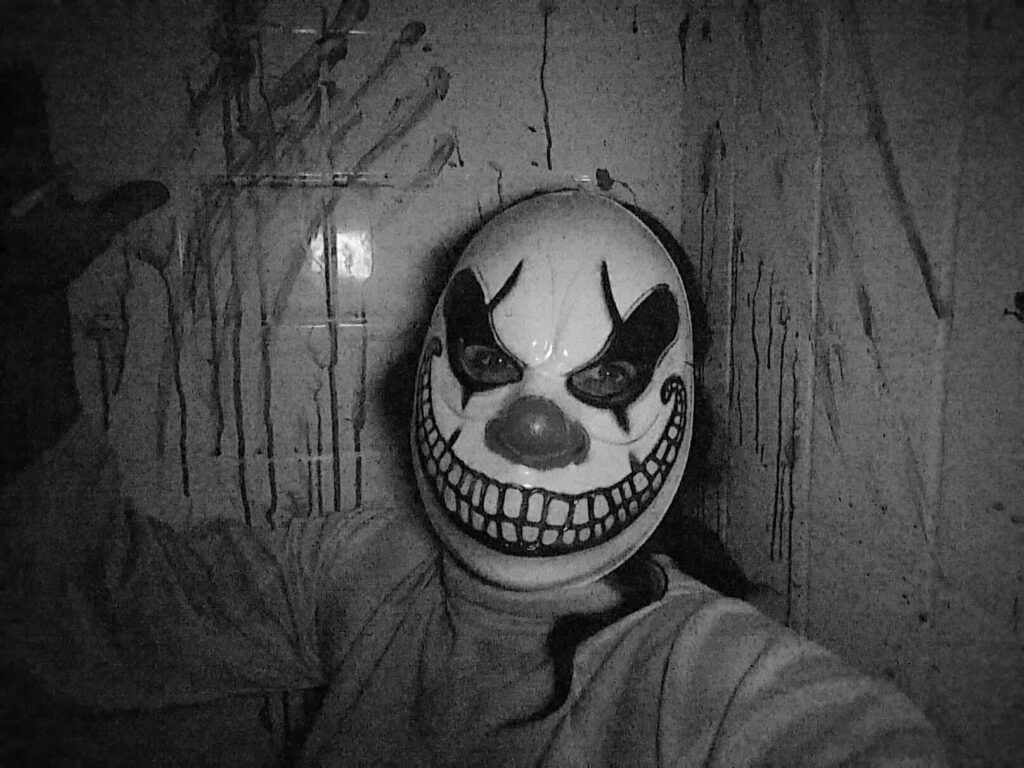 Website: https://superstition-asylum.business.site/
Address: 1380 W Roundup St, Apache Junction, AZ 85120
Contact Number: (480) 604-1945
Opening Hours: (October) Friday to Saturday, 8PM–12AM
Admission Fee: Starts at $20
We don't know about you, but asylum-themed haunted houses are the bane of our existence. We find them downright frightening and bone-chilling – and Superstition Asylum does not disappoint.
We had to see for ourselves what the hype was about, and we're happy to report that the hype is real. The props, costumes, and setups are all well-made and look crazy real; plus, the actors really played their characters well and scared the bejeezus out of us.
There are clowns, ghosts, deranged white ladies ready to jump out of nowhere. It's a good mix of various terrifying creatures, despite being set in a haunted asylum.
From what we've heard, people have had the same fun and frightening experience. No wonder there are long lines waiting outside the place.
They're only open every weekend in October, so be sure to drop by and see for yourself how scary the horror house is.
Our No-fail Tips for Your First Haunted House Experience
If it's your first time coming to a haunted house, we're guessing that you're pretty excited about it. So we laid down some tips and reminders to help you make the most out of your experience.
1. Look up the house rules.
Some haunted houses allow costumes, but most do not. This is so they can distinguish between staff members and guests.
You wouldn't believe how many people show up to haunted houses in costumes, just to get sent away by management. Not cool.
2. Wear closed shoes.
There are haunted houses that have uneven floors, wet areas, and even sandy floors. Plus, it's most likely that you'll do some running after jumpscares – so wear closed shoes for convenience and safety.
3. Fast passes are great, especially during peak days.
Haunted houses, especially during October, are where most people are at. Most would have crazy long lines during the weekends that would require you to wait at least an hour.
If you'd rather not waste time, splurge an extra few dollars for a fast pass.
4. Do not touch the props or the actors.
Most people panic after getting scared that they tend to push or shove the actors away. This is a big no-no; restrain yourself and close your eyes if you have to, but never hurt the staff and avoid damaging the property.
5. Always read the warnings and disclaimers.
The warning signs are there for a reason. If you're below the allowed age or you have a sensitive condition, exercise caution and seek medical advice if you have to.
Frequently Asked Questions
---
Ready for a frightening night? Let us know in the comments section below which haunted house you plan on visiting first!