Categories >
Guides and Tips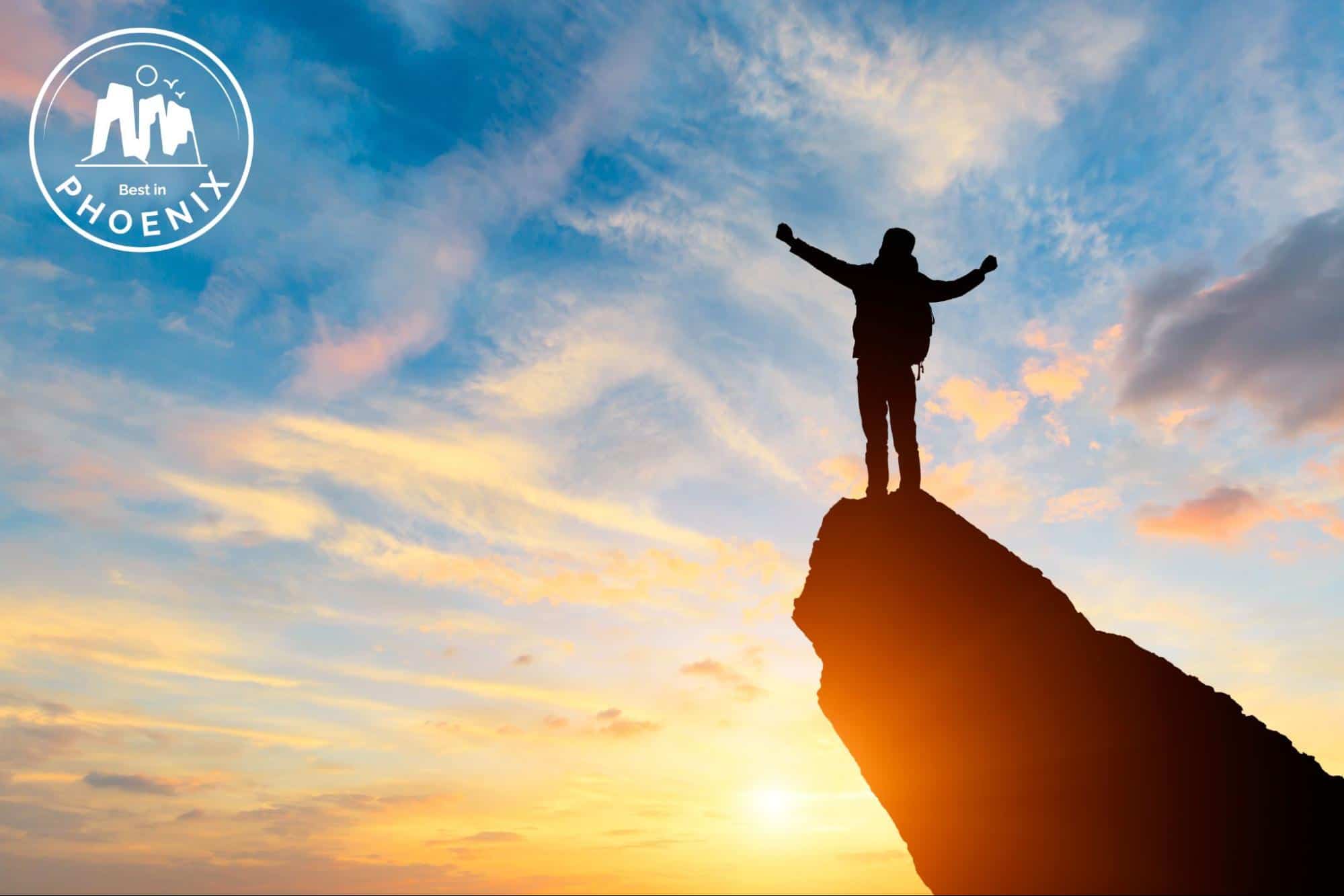 Why is Phoenix a great place to live in?
Ah, Phoenix. Otherwise known as the Valley of the Sun, this hot city in Arizona is known for its picturesque views, scenic mountains, and the year-round sun.
Over the past decade, the city has seen constant growth not just in its economy and varied culture, but in its population as well.
In fact, Phoenix has been the fastest-growing city in the United States population-wise for five consecutive years now. 
No longer is Phoenix just seen as a retirement place; it's now known as a bustling city that has much to offer for students, families, and professionals. It's undeniably a great place to live in, for many good reasons.
If you're one of those who are considering moving here, read on for some interesting facts and fun things to do in this sprawling city.
Why is everyone moving to Phoenix?
People are moving to Phoenix mainly because of six reasons:
Diverse population
Fantastic employment opportunities
Fair cost of living
Top-notch schools
Great real estate investment opportunities
Sunny weather all-year round
Allow us to dig deeper into each of these reasons.
1. Phoenix has a diverse population.
In 2021, Phoenix became the fifth-largest city in the United States, overtaking Philadelphia. The capital city of Arizona was the fastest population growth in all major cities across the country within the past decade.
Phoenix is a melting pot of varied cultures. Simply take a walk downtown and you'll find a bunch of museums, cultural centers, and several restaurants with different specialities.
As of writing, Phoenix has a population of 1,640,641 based on the latest US Census estimates. And Phoenix ranks fifth among the most diverse cities in Arizona, having a diversity score of 92 which is significantly higher than other US cities.
2. Phoenix has fantastic employment opportunities.
In a 2022 forecast, Phoenix was revealed to have recovered all jobs lost since the pandemic hit in April 2020. In fact, the employment rate is at an impressive 23% higher than February 2020.
What's more is that the unemployment rate is at 3.2%, a record low since 1976. As more people come to the city, more job opportunities open up as well.
This is also why you'll most likely see coworking spaces pop up here and there. See, since most companies have adopted a remote working setup, it made a lot of sense to lease out a temporary space than rent an actual office.
For curiosity's sake, we looked into the 10 most high-paying jobs in Phoenix for 2022. Below are the results according to the Bureau of Labor Statistics.
| | | |
| --- | --- | --- |
| Highest Paying Jobs in Phoenix (as of March 2022) | | |
| Rank | Average Salary | Entry Level Salary |
| Orthopedic Surgeons (except Pediatric) | $354,310 | $170,020 |
| Anesthesiologists | $332,670 | $129,750 |
| Psychiatrists | $293,820 | $174,550 |
| Physicians, All Other | $257,610 | $100,080 |
| Family Medicine Physicians | $221,250 | $62,360 |
| Pediatricians, General | $204,590 | $62,770 |
| Airline Pilots, Copilots, and Flight Engineers | $197,820 | $79,380 |
| Physicists | $195,300 | $100,570 |
| Dentists, General  | $182,530 | $78,850 |
| Nurse Anesthetists | $178,400 | $159,580 |
Source: Bureau of Labor Statistics via Zippia
3. Phoenix is much more affordable than major cities in the West.
Phoenix is known to be relatively more affordable than other major cities in the US. While the cost of living is still above average, it is much lower compared to big cities in the country, according to recent data.
The US cost of living index is based on an average of 100. This means that any amount below 100 is relatively cheaper, while any amount higher is more expensive.
Phoenix scores at a mere 5.1% higher than the national average. This is still much cheaper in comparison to other major cities such as San Francisco (86.1%), New York (80.4%), Washington (56.1%), Boston (51%), and Miami (11.6%).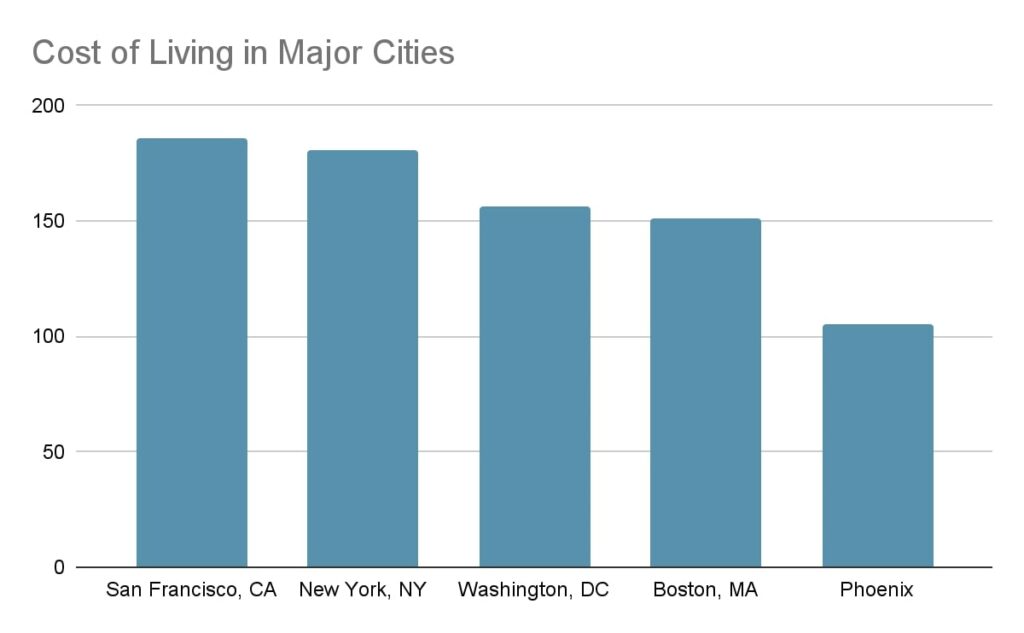 Source: Salary.com
4. Phoenix has some of the best schools in Arizona.
Phoenix has no shortage of schools. From preschool to middle school, up to public and private universities, there's bound to be a place for every student.
Phoenix has the highest concentration of the best public schools in Arizona. This is based on the percentage of schools within the city that's among the top 10% of all schools across the US.
Just recently, Phoenix was named as the winner of the 2022 All-America City Award by the National Civic League and the Campaign for Grade-Level Reading. The city is one of the most awarded in the country, having been designated six times.
The schools in Phoenix rank at an average of 7/10, which is within the top 50% of Arizona public schools.
Arizona State University (ASU) alone, one of the biggest universities in Phoenix, offers more than 400 undergraduate and major programs. Students can take their pick among hundreds of disciplines in the arts, business, engineering, and more.
It's also ranked among the top 10 for best online bachelor's programs by U.S. News & World Report nationally. And, ASU is one of the fastest-growing research facilities in the US.
5. Phoenix is a gem for real estate investments.
Because the population grows so fast in Phoenix, the demand for housing and rental properties is also increasing. In fact, it's currently dubbed as a seller's market because there are more people looking to buy than to sell.
Real estate agents often say that the best time to invest in a Phoenix property is now. With inflation rates expected to rise in the coming year, it would be smart to invest your money in something where rates are equally rising.
The city currently has a sale-to-list price ratio of 101.61%. This means that properties are selling at a minimal rate above the average asking price.
Phoenix also has a strong rental market. Rent prices in the city increase at a significant rate of 8% every year.
This is why about 28% of Phoenicians are rental property investors. In its current state, the market slightly favors renters over homebuyers.
| | | |
| --- | --- | --- |
| Most Expensive Neighborhoods in Phoenix | | |
| Neighborhood | Median Home Price | Median Rent Price |
| Downtown | $650,180 | $1,098 |
| Encanto | $440,209 | $917 |
| Camelback East | $559,615 | $1,001 |
| Desert View | $709,988 | $1,832 |
| Midtown | $385,002 | $1,129 |
| Paradise Valley | $600,191 | $1,429 |
| Rio Vista | $819,954 | $1,796 |
| Central City | $340,103 | $790 |
| Ahwatukee Foothills | $569,779 | $1,531 |
| Amberlea | $361,857 | $1,273 |
Source: Zerodown.com
If there's one thing Phoenix is really known for, it's the sunny weather and desert-like climate. It comes as no surprise, as the city lies in the Sonoran Desert region.
Phoenix sees about 300 sunny days in a year. This bodes well for people who especially love the outdoors and hate extremely cold days.
July is usually the hottest month in Phoenix when the temperature rises up to 91°F. January is typically the coldest when the temperature drops to an average of 54°F.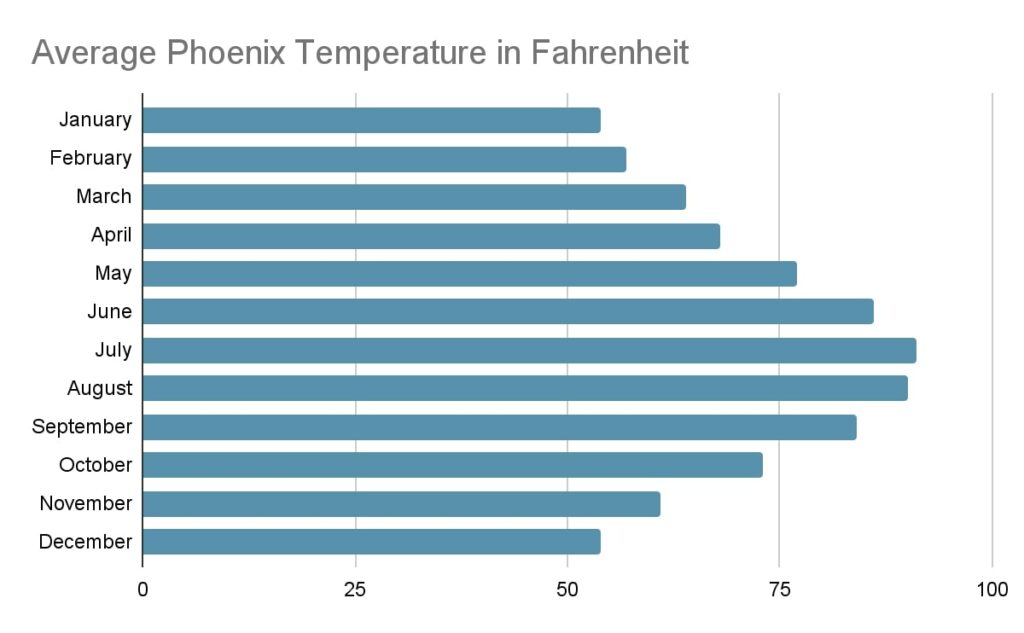 Source: HolidayWeather.com
So, if you're looking for a White Christmas, Phoenix may not be for you. Still, it's a great city to visit any day of the year.
Rain is a rare occurrence in the valley, which is why you never have to worry about your plans getting rained on. Pun intended!
On a more serious note, residents in Phoenix love the weather because the natural landscape of the city was made to be explored.
There are so many outdoor things to do and places to visit across the valley – whether it's hiking, paddling, or even a simple stroll downtown – the weather is almost always lovely.
Is Phoenix a fun place to live in?
Anyone who's ever been to Phoenix will tell you that the city has a bustling nightlife and the most fun outdoor activities.
Whether you're a casual tourist, a curious wanderer, or an adrenaline-junkie, there are sights that you simply must not miss when visiting the city.
Below are 20 of the best things to do when you come to visit. Let us know which ones you've already done or are yet to do!
1. Hike Camelback Mountain.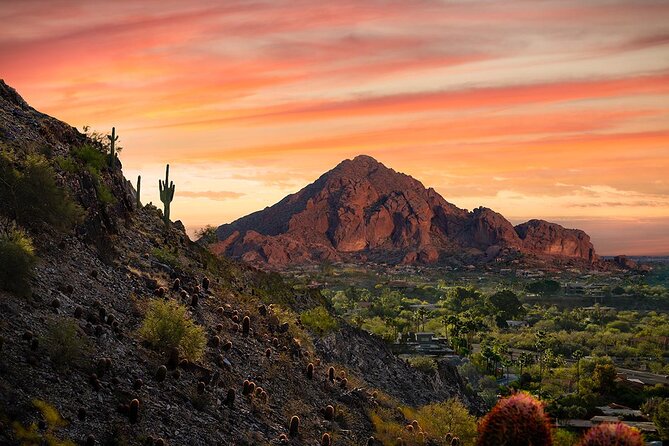 Image Source: Viator
Address: 5191 N Invergordon Rd, Paradise Valley, AZ, 85253
Opening Hours: Monday to Sunday, Sunrise to Sunset
Camelback Mountain is one of the most popular hiking spots in Phoenix. Located just 20 minutes from downtown, it's a must-visit site for hiking enthusiasts and experts alike.
Camelback Mountain has two trails – the Echo Canyon Trail and the Cholla Trail. The former is steeper, while the latter is much longer.
Both, however, are rated as extremely difficult as there are exposed rocks and strenuous climbs that you'll need to go through. Along the way, you'll stumble upon beautiful flora such as saguaro cacti, palo verde, and creosote bushes.
Once you reach the top, though, you'll be treated to stunning 360-degree views of the entire valley.
The entire hike usually takes experienced hikers 2 to 3 hours to get up and down. We needn't remind you – bring a ton of water!
On days when there are excessive heat warnings, the mountain is closed. It's merely a precaution because rescue operations do tend to happen here often.
The entrance to Camelback Mountain is free. If you'd like to take up on the challenge but have reservations, try going on a guided hike to help put your mind at ease.
Another thing we'd like to point out, pets are strictly not allowed on the mountain. The park rangers are also incredibly strict about overtime parking, so make sure to get back to your car on time.
2. See the architectural grandeur of Taliesin West.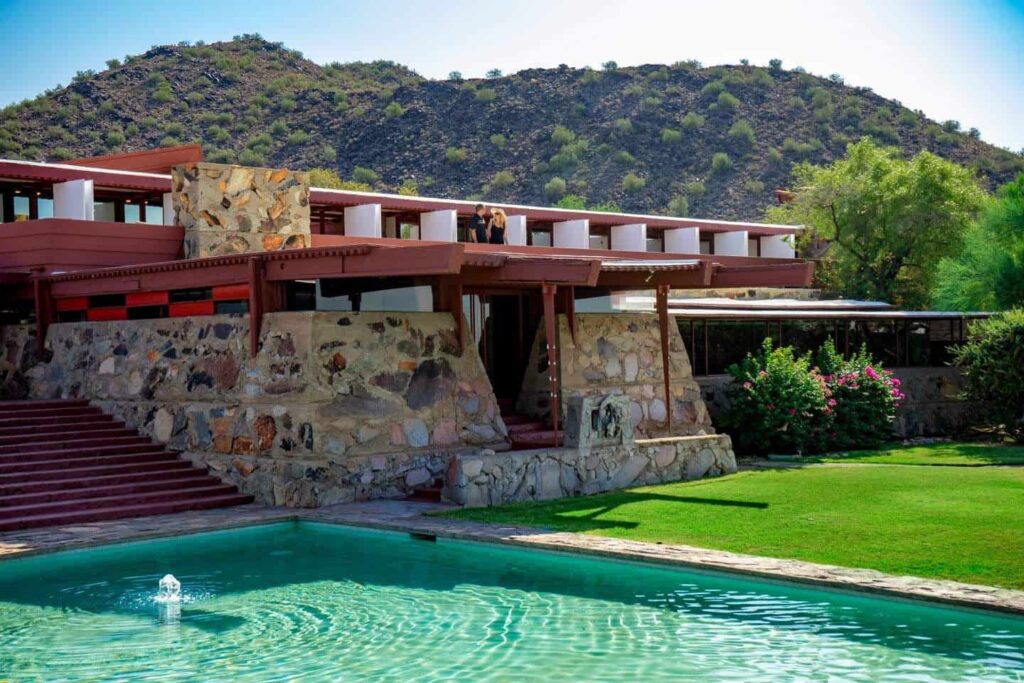 Image Source: Frank Lloyd Wright Foundation
Website: https://franklloydwright.org/
Address: 12621 N Frank Lloyd Wright Blvd, Scottsdale, AZ 85259
Ticket Rates: Starts at $39 for adult audio tours and $49 for for adult guided tours
Opening Hours: Monday to Sunday, 10AM–5PM
Taliesin West is Scottsdale's only National Historic Landmark and is a UNESCO World Heritage Site. It's the beloved winter home and desert laboratory of famed architect, Frank Lloyd Wright, which was completed between 1937-1959.
The extraordinary architectural site is a wondrous display of prehistoric grandeur – walls made out of local desert rocks, stacked wood forms, concrete details – it's often referred to as organic architecture at its finest.
Today, it's the home of the Frank Lloyd Wright Foundation whose main mission is to offer inspiration to people through architecture and its connection to nature and the arts.
Taliesin West also hosts several exhibitions, youth and family programs, Friday night films, and even wellness series.
3. Visit the Pueblo Grande Museum and Archaeological Park.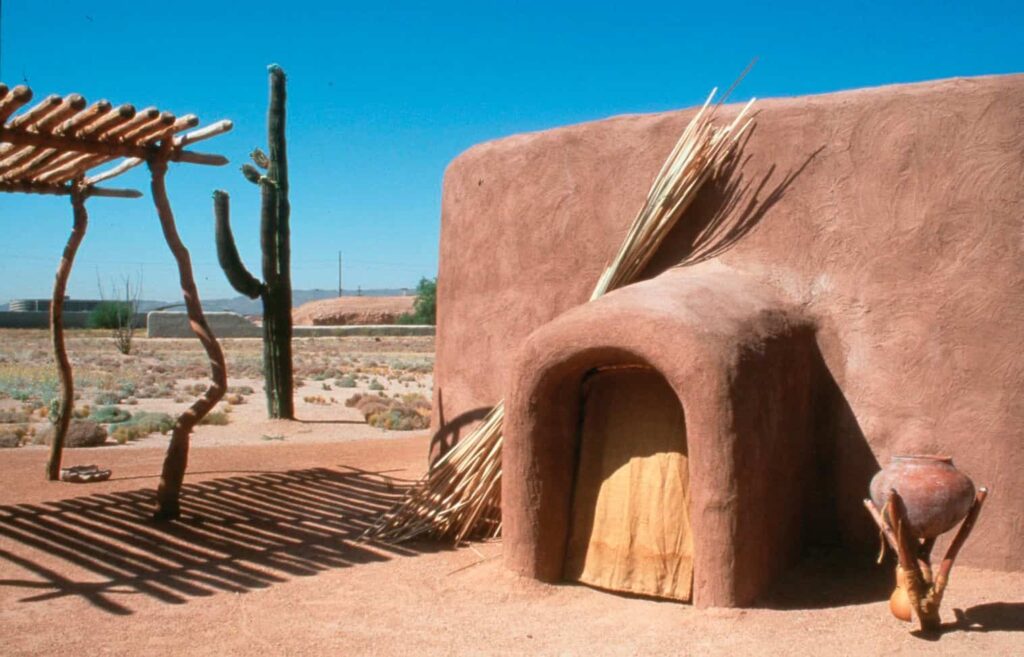 Image Source: Experience Scottsdale
Website: https://pueblogrande.org/
Address: 4619 E Washington St, Phoenix, AZ 85034
Ticket Rates: $6 for adults, $3 for children
Opening Hours: (October to April) Monday to Saturday, 9AM–4:45PM; Sunday 1PM–4:45PM; (May to September) Monday to Saturday, 9AM–4:45PM; Sunday, CLOSED
The Pueblo Grande Museum and Archaeological Park is a site that was once inhabited by the Hokoham culture. It's a National Historic Landmark and is Phoenix's largest preserved archaeological site.
There's a fully-accessible trail that'll take you through a platform mound, a ball court, and interesting replicated houses. The museum also houses three galleries of display artifacts and a hands-on children's gallery.
Throughout the year, the museum hosts a variety of activities for adults and kids such as archaeology classes, arts and crafts workshops, hikes, lectures, and more.
There's also the annual Indian Market, Native Art and Rug Auction, Ancient Technology Day, and children's summer programs that we think young ones will truly enjoy.
4. Walk through the paths of Desert Botanical Garden.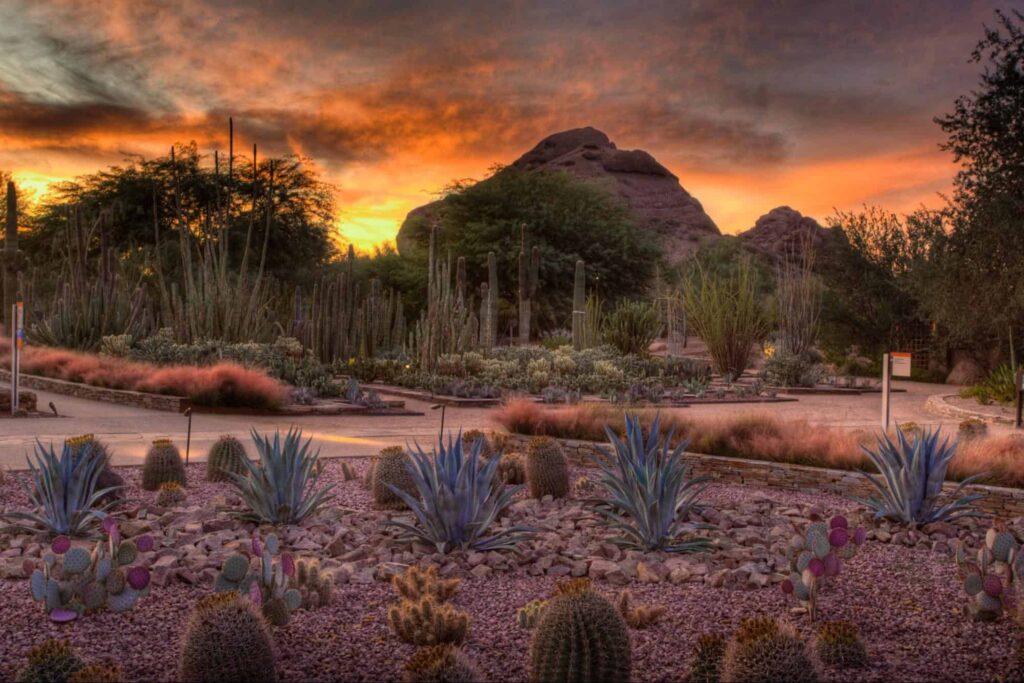 Image Source: Experience Scottsdale
Website: https://dbg.org/
Ticket Rates: Starts at $24.95 for adults
Address: 1201 N Galvin Pkwy, Phoenix, AZ 85008
Contact Number: (480) 481-8120
Business Hours: Monday to Sunday, 7AM–6:30PM
The Desert Botanical Garden is another popular site for tourists and locals not just for the stunning views, but also for the fun and festive events they typically host.
The garden spans over 55 acres and is home to thousands of cacti, trees, and flowers from all over the world. Think lovely succulents and unique wildflowers and lush trees – they're all here and completely fascinating to see.
There are five trails to choose from – the Sonoran Desert Nature Loop Trail, Center for Desert Living Trail, Desert Discovery Loop Trail, Harriet K. Maxwell Desert Wildflower Loop Trail, and the Plants and People of the Sonoran Desert Loop Trail.
Afterwards, you can go visit the Butterfly Pavilion where you'll find thousands of butterflies in a state-of-the-art nursery space. Or, you can indulge in a delicious meal at Gertrude's, where they serve farm-to-table mouthwatering dishes.
5. Spend the day at Papago Park.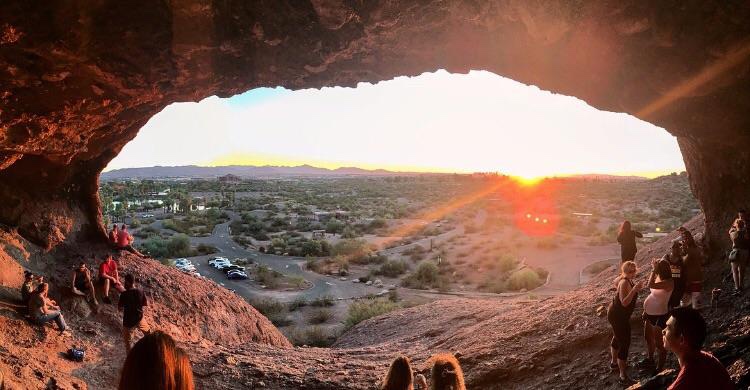 Image Source: Viva Phoenix
Address: 625 N Galvin Pkwy, Phoenix, AZ 85008
Contact Number: (602) 495-5458
Business Hours: Monday to Sunday, 5AM–11PM
Papago Park is a mere few minutes drive from downtown. It's a beautiful park with no entrance fee that offers much to do – including hiking, mountain biking, a golf course, a fishing lagoon, and more.
You'll also find here the iconic Hole-in-the-Rock trail, which features a main chamber that overlooks nearby lagoons and is especially beautiful at sunset. It's a truly intriguing rock formation with a lovely view of the downtown skyline.
6. Immerse yourself at the Musical Instrument Museum.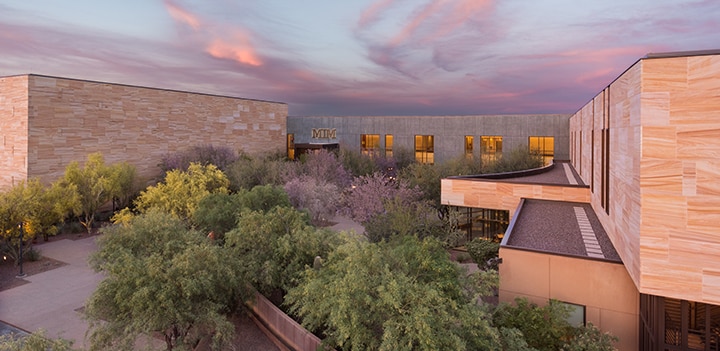 Image Source: Musical Instrument Museum
Website: https://mim.org/
Ticket Rates: $10 for children, $15 for teens, and $20 for general admission
Address: 4725 E Mayo Blvd, Phoenix, AZ 85050
Contact Number: (480) 478-6000
Business Hours: Monday to Sunday, 9AM–5PM
How does over 6,000 musical instruments across the globe sound to you? Even if you're not a music buff, we think that you'll enjoy seeing, hearing, and learning all about music at the Musical Instrument Museum.
Here, there are five Geographic Galleries, an Experience Gallery, and an Artist Gallery to walk through and enjoy.
We're partial to the Artist Gallery, as it lets visitors see many instruments and memorabilia from famous artists such as Elvis Presley, Johnny Cash, Maroon 5, and more.
They also usually hold live music concerts at the 300-seater theater. Make sure to drop by Café Allegro, too, which is an award-winning cafe that features a rotating menu of spectacular global cuisine.
7. Visit the Phoenix Art Museum.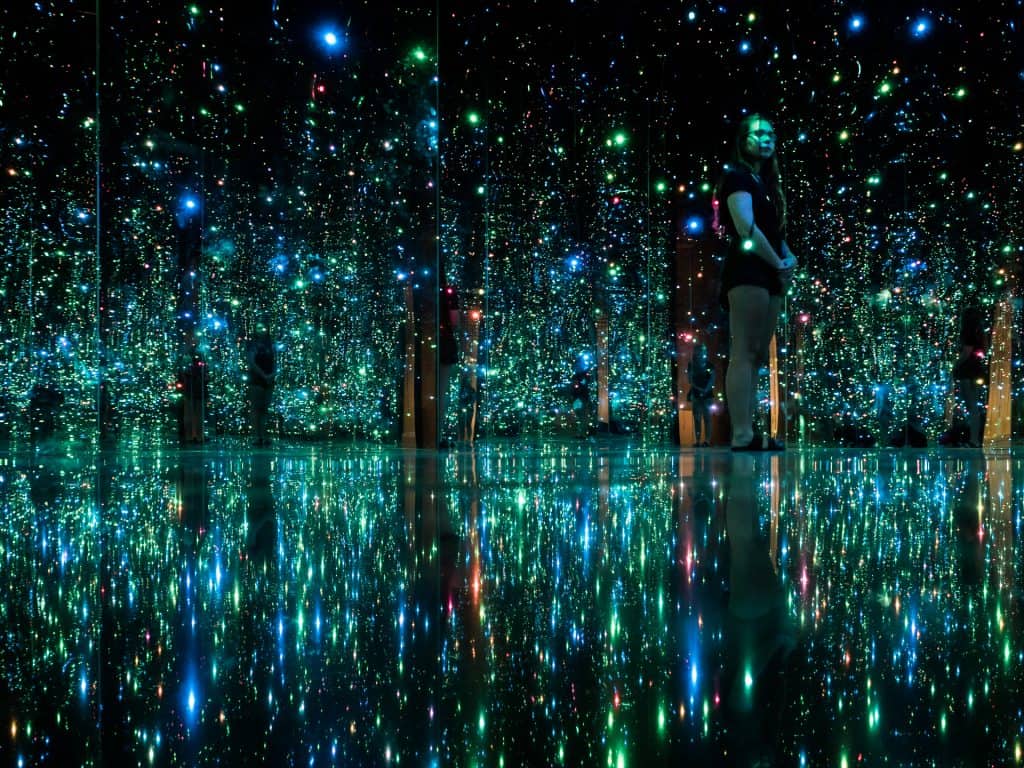 Image Source: Phoenix Art Museum
Website: https://phxart.org/
Ticket Rates: $5 for children, $15 for students, and $20 for general admission
Address: 4725 E Mayo Blvd, Phoenix, AZ 85050
Contact Number: (602) 257-1880
Business Hours: Wednesday to Sunday, 10AM–5PM
If art is more up your alley, then the Phoenix Art Museum is one place you shouldn't miss. It's the largest museum for visual arts in the southwest United States, with over 18,000 works of modern and contemporary art, as well as fashion design.
From film series and lectures to art-making, even up to musical performances, the museum is best known for its interactive space. They also play host to festivals, live performances, and independent art films year-round.
Seriously, there's so much to see and explore. Make sure to wear your comfy shoes when you come visit.
8. Get acquainted with wildlife at Phoenix Zoo.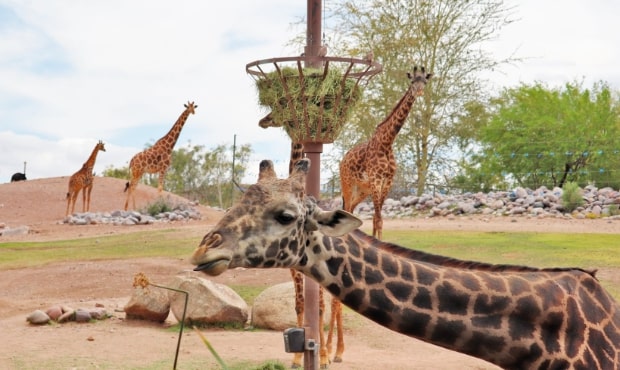 Image Source: KTAR News
Website: https://www.phoenixzoo.org/
Ticket Rates: $19.95 for children and $29.95 for general admission
Address: 455 N Galvin Pkwy, Phoenix, AZ 85008
Contact Number: (602) 286-3800
Business Hours: Monday to Sunday, 9AM–5PM
The Phoenix Zoo is located inside Papago Park. It's home to over 3,000 animals which include orangutans, elephants, Sumtran tigers, Masai giraffes, and more.
What we love about it is how diverse the animals are. And, there's so much to do apart from seeing and learning about them.
The zoo has a great selection of outdoor cafes, lush gardens, and water landscapes.
There are also several trails you can go on – the Africa Trail, the Arizona Trail, the Tropics Trail, and Children's Trail – all of which feature magnificent animals (some of which, you can even interact with).
9. Visit the Goldfield Ghost Town.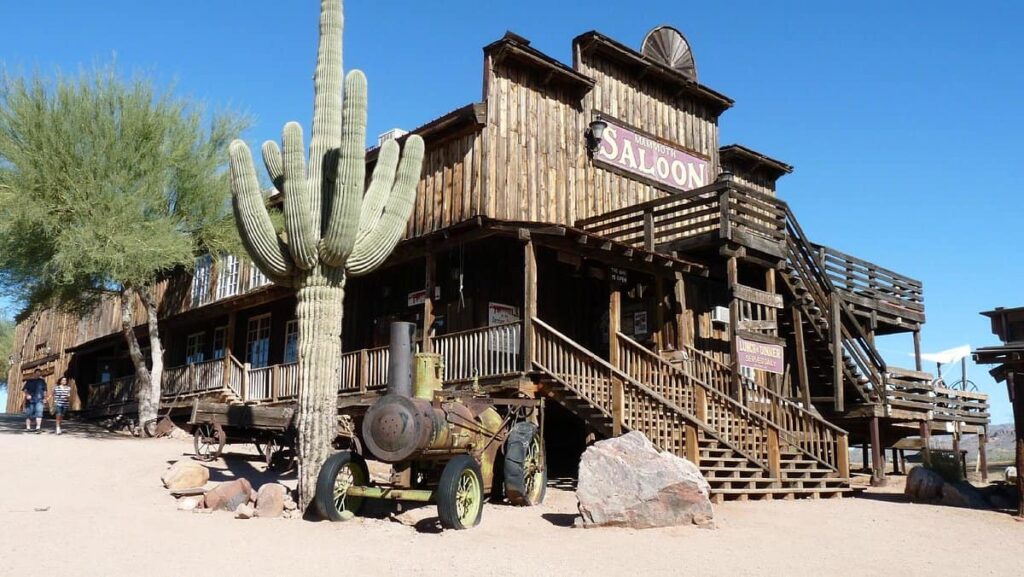 Image Source: TripAdvisor via Never2Wise
Website: http://goldfieldghosttown.com/
Ticket Rates: Tours start at $8 for children and $12 for general admission
Address: 4650 N Mammoth Mine Rd, Apache Junction, AZ 85119
Contact Number: (480) 983-0333
Business Hours: Monday to Sunday, 10AM–5PM
The Goldfield Ghost Town is an old and abandoned mining town which has been converted into a tourist attraction. Today, it features a mine tour, fun rides, a museum, and historic buildings and shops.
There's much to see down Main Street; after which you can tour the Mammoth Gold Mine and visit the Goldfield Museum. You can even ride on Arizona's only narrow gauge train and witness an old west gun fight by the Goldfield Gunfighters.
We think it's a unique historical tour that you can take with your family. Make a day out of it!
10. Join the First Friday Art Walks.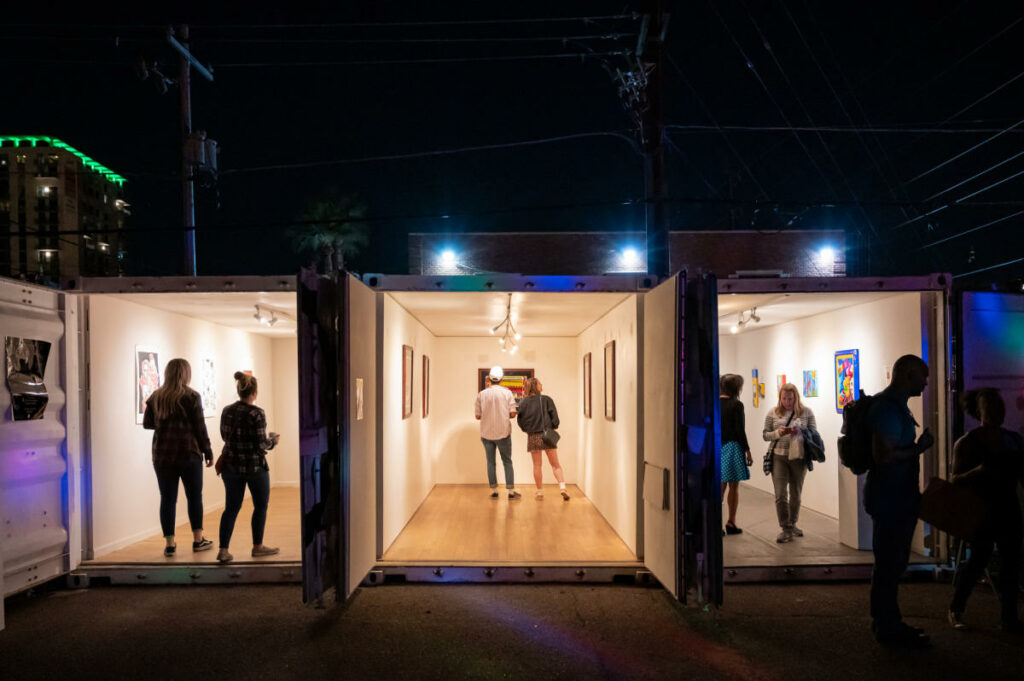 Image Source: Visit Phoenix
Website: https://artlinkphx.org/first-fridays/
Contact Number: (602) 256-7539
The First Friday Art Walks happen, well, every first Friday of the month. It's one of the country's biggest self-guided art walk tours with over 70 galleries and art-related spaces.
Aptly named, you'll find here a diverse group of artists, musicians, vendors, and creative people of all genres. The place also comes alive with surrounding bars, restaurants, and food trucks.
It happens downtown and starts as early as 5PM. Pro tip: just take the Valley Metro Rail and get off at Roosevelt or Central Ave station as parking can be quite difficult.
Consider it a lively night of art, music, food, and a lot of fun. You can't go to Phoenix and not experience it; you're simply missing out on too much.
11. Have a field day at Arizona Science Center.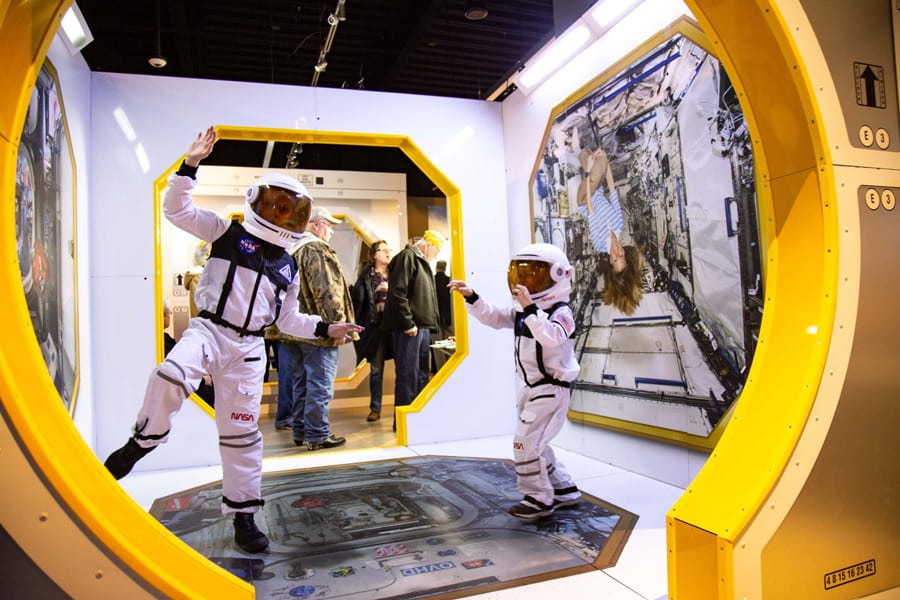 Image Source: Raising Arizona Kids
Website: https://www.azscience.org/
Ticket Rates: Starts at $15.95 for children and $21.95 for general admission
Address: 600 E Washington St, Phoenix, AZ 85004
Contact Number: (602) 716-2000
Business Hours: Monday to Sunday, 10:30AM–4PM
For another unique educational experience, head over to the Arizona Science Center. This facility is a 140,000 square foot building of pure learning, exploration, and entertainment.
There are four levels of hands-on exhibits, the magnificent Dorrance planetarium, and a five-story IMAX(R) theater. There are rotating exhibits, too, that kids (and adults!) find fascinating.
They also have a bunch of fun events you can attend, including Astronomy Weekend, Snow Week, Spooky Science, and a Galaxy Gala. 
12. Take a walk down Roosevelt Row.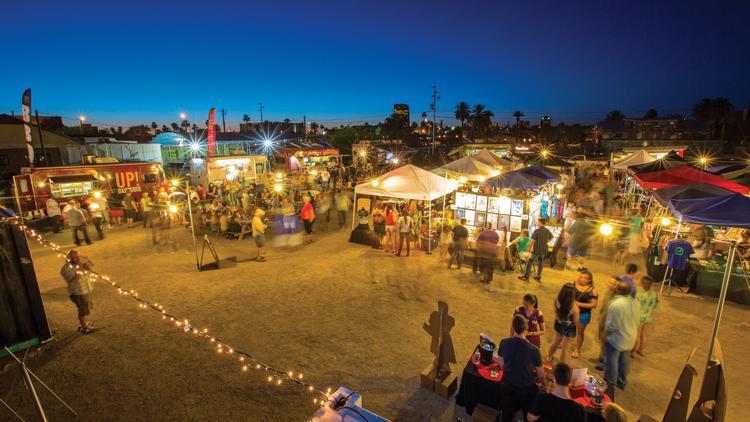 Image Source: Phoenix Business Journal
Roosevelt Row is downtown Phoenix's prime spot when it comes to art galleries, restaurants, bars, and cheap to high-end boutique shops. It's the place to be on Friday nights and weekends, or any other day of the week for that matter.
There are also several events that happen here, including the First Friday Art Walks, Indie Film Fests, music festivals, and more.
13. Catch a live performance at the beautiful Orpheum Theater.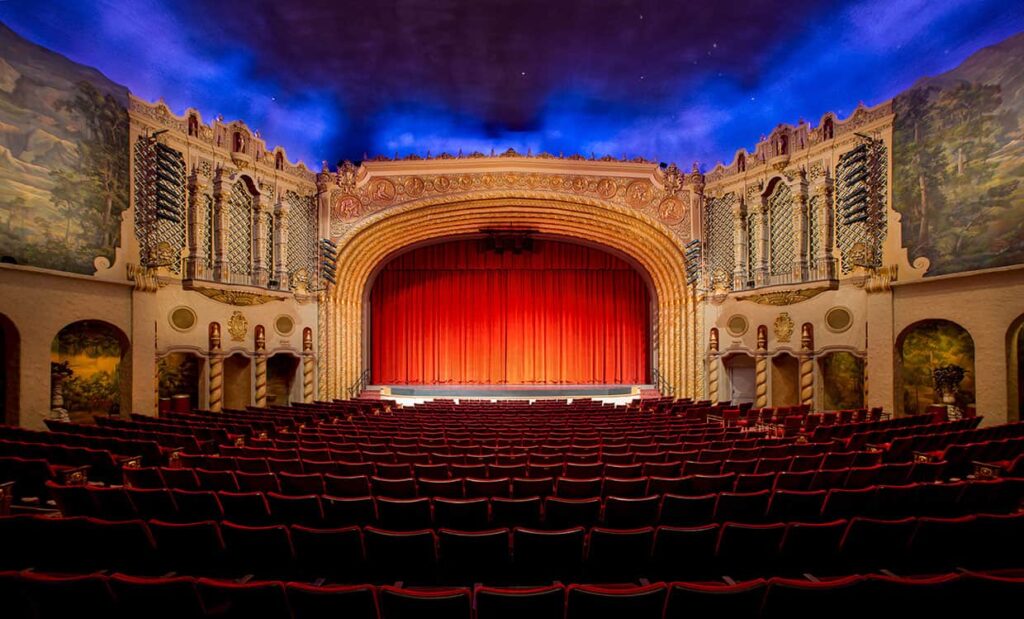 Image Source: Arizona Highways
Website: https://www.pccticketing.com/
Address: 203 W Adams St, Phoenix, AZ 85003
Contact Number: (602) 262-6225
Business Hours: Monday to Sunday, 10AM–10PM
The Orpheum Theater is a historic building that is now home to the Phoenix Opera. Apart from that, you can also watch the concerts, broadway musicals, and ballet performances at this grandiose place.
What's really incredible to us is its stunning architecture. $14 million and years later, it now features a Spanish Baroque predominant style complete with finials, brackets, and walls with large blocks of vari-colored stone.
The auditorium itself was also designed to look like a lavish Spanish garden with arbored cloves. One simply can't help but be in awe of all the architectural details.
14. Dine with luxury at Christopher's at the Wrigley Mansion.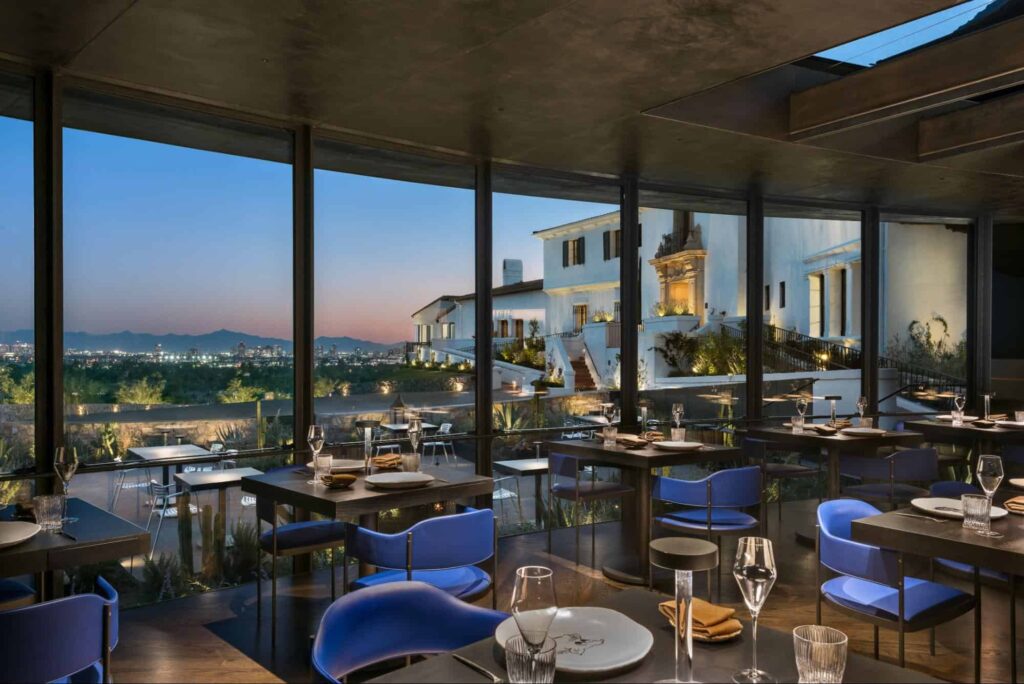 Image Source: Wrigley Mansion
Website: https://wrigleymansion.com/christophers/
Address: 2501 E Telawa Trail, Phoenix, AZ 85016
Contact Number: (602) 522-2344
Business Hours: Tuesday to Saturday, 5PM–10PM; Sunday, CLOSED
Fine dining, stunning architecture, and a gastronomic feast like no other. Christopher's at the Wrigley Mansion is famous for a lot of good reasons, and these are just some.
The genius behind this restaurant is chef Christopher Gross, a renowned Phoenix chef and James Beard award winner. People across the valley and beyond come to experience his 12-course tasting extravaganza, which is nothing short of extraordinary.
It pays tribute to cuisines all around the world, Mediterranean, mostly, but he adds a special touch on each dish that's uniquely him. And with an intimate ambience, it's a dining luxury like no other.
15. Enjoy a night of drinks and music at Valley Bar.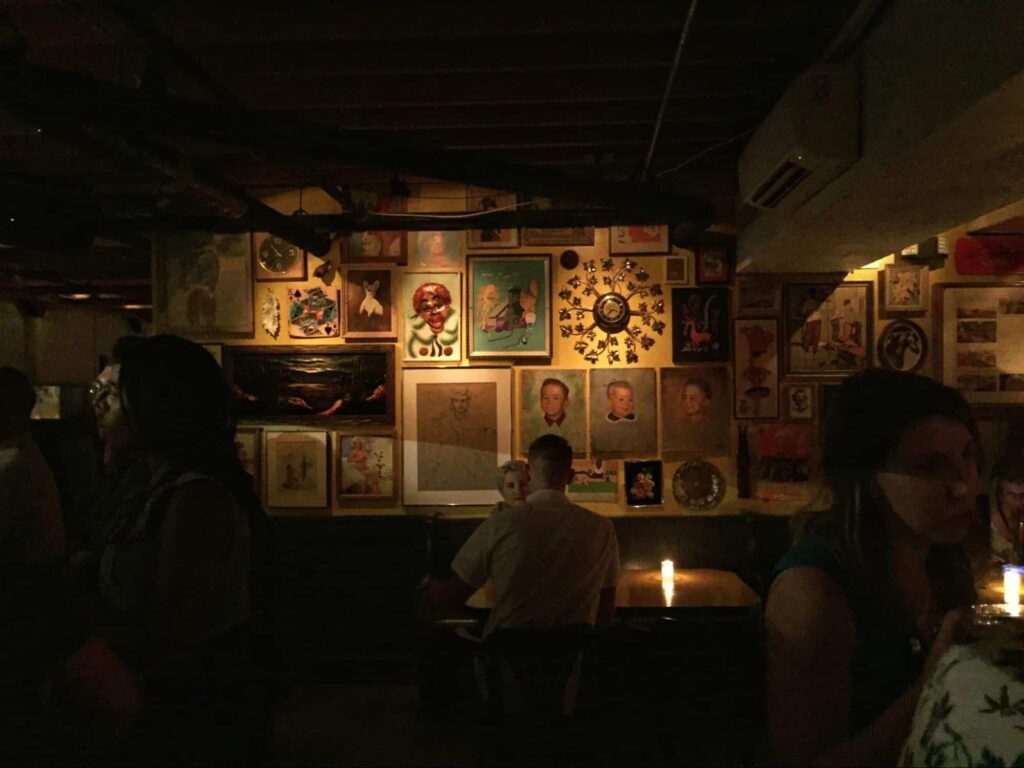 Image Source: Downtown Phoenix Journal
Website: https://valleybarphx.com/
Address: 130 N Central Ave, Phoenix, AZ 85004
Contact Number: (602) 368-3121
Business Hours: Tuesday to Sunday, 6PM–2AM; Monday, CLOSED
Valley Bar is best known for live music, delicious drinks, and solid nights of fun. It's a hot and happening place to be for date nights or reunions.
It's conveniently located right on Central Avenue. Blink and you might miss it; think hidden speakeasy or underground library.
Note that their drinks can be a little pricey, but it's really the vibe you come here for. You can also rent a private room with billiards and other games, if you want a full-on game night.
16. Cool down at the Arizona Biltmore.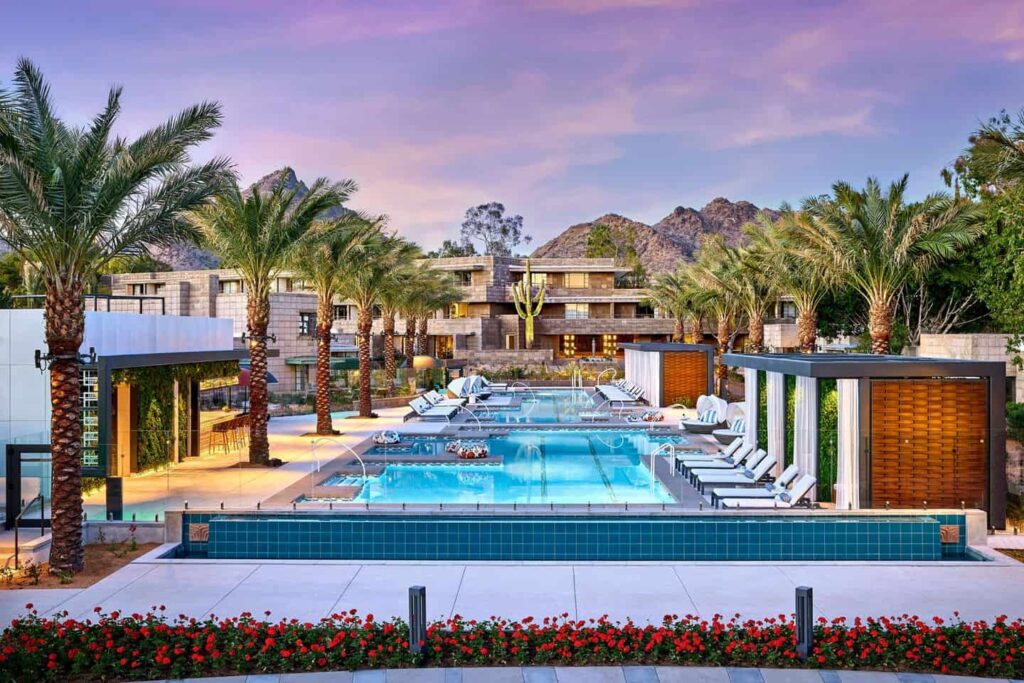 Image Source: Arizona Biltmore
Website: https://www.arizonabiltmore.com/
Address: 2400 E Missouri Ave, Phoenix, AZ 85016
Contact Number: (602) 955-6600
Business Hours: Open 24/7
Is the summer heat getting to you? Cool down at Arizona Biltmore, a luxury hotel that has all the amenities to keep you cool, pampered, and relaxed.
Take a dip at their famous Saguaro pool, or maybe treat yourself to a much-needed massage at Tierra Luna Spa. Afterwards, enjoy lounging around the pool surrounded by a bevy of cocktails to choose from.
Make it a full-on staycation and check-in at one of their glamorous guest rooms. You're bound to wake up refreshed and ready for another day.
17. Soak up the sun at Tempe Beach Park.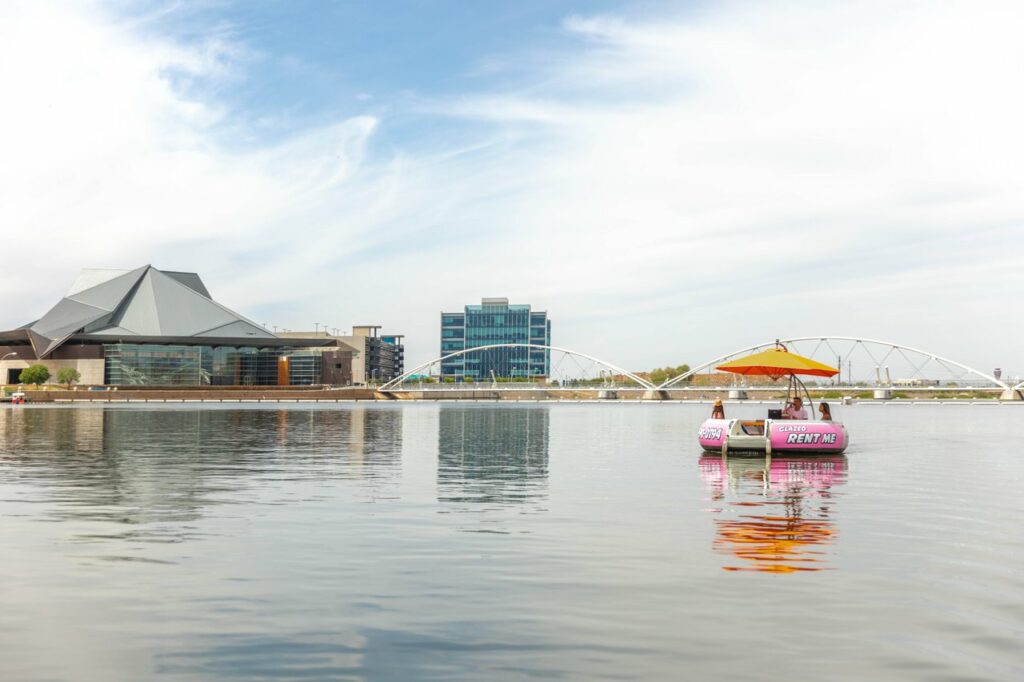 Image Source: Tempe Tourism 
Address: 80 W Rio Salado Pkwy, Tempe, AZ 85281
Contact Number: (480) 350-5200
Business Hours: Monday to Sunday, 5AM–12AM
Not quite a beach, but it does have that sunny, outdoorsy feel to it. Tempe Beach Park is a desert oasis smack in the middle of the Phoenix Metropolitan Area.
Here, you can laze the day away and get some fresh air. Or you could rent a bike, rent a boat, paddle board, kayak, or have a relaxing picnic.
The place also occasionally hosts exciting events, including festivals, concerts, and even the Tempe Fantasy of Lights Boat Parade. The best part is that the park is open until 12AM. 
18. Have a fun outing at Enchanted Island Amusement Park.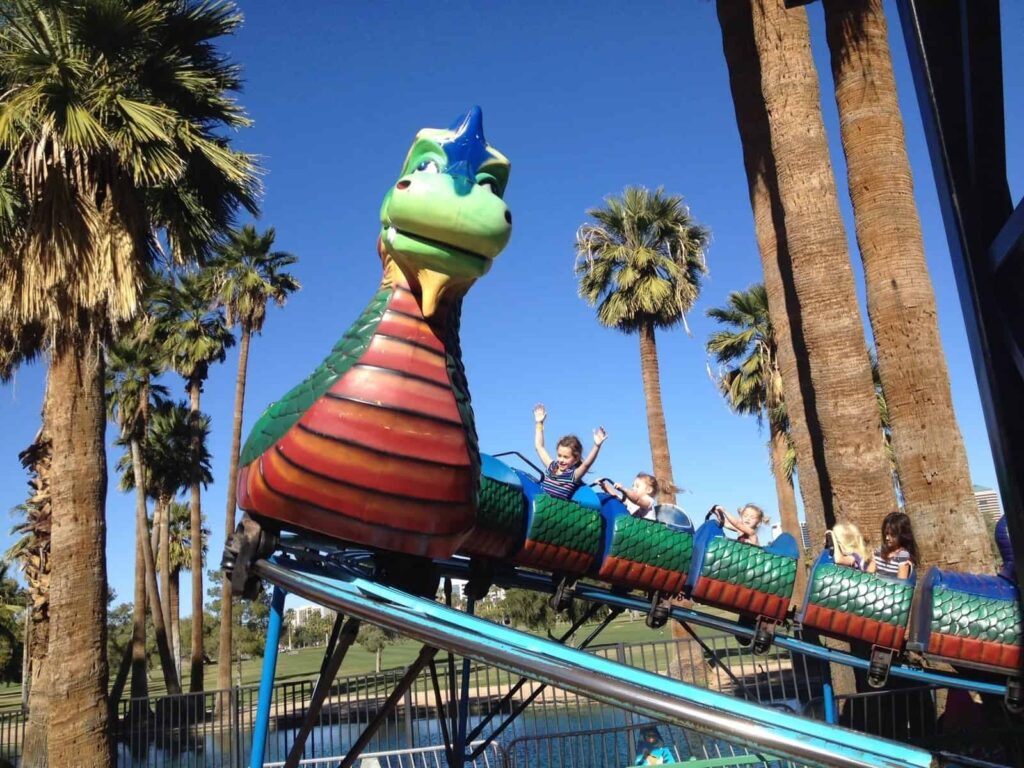 Image Source: Trekaroo
Website: https://www.enchantedisland.com/
Ticket Rates: All-day ride pass starts at $23.75
Address: 1202 W Encanto Blvd, Phoenix, AZ 85007
Contact Number: (602) 254-1200
Business Hours: Friday, 5PM–9:30PM; Saturday, 10AM–8PM; Sunday, 12PM–8PM
While not as big as other amusement parks, Enchanted Island Amusement Park holds its own as a charming and magical place for kids.
It's located inside the picturesque Encanto Park and offers 11 rides and attractions – including a big carousel, pedal-boats, and a variety of carnival games.
They recently just opened the Splash Zone, which is exactly what it sounds like. There are flower showers, water mushrooms, and dumping buckets, so be sure to pack your kids a swimsuit.
19. Enjoy a scenic nature cruise on the Dolly Steamboat.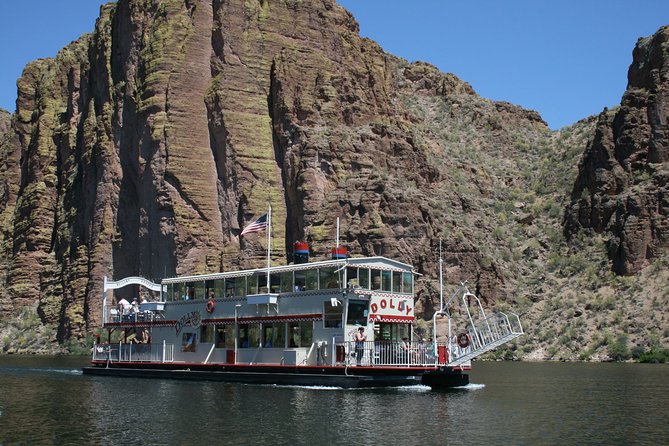 Image Source: Viator
Website: https://dollysteamboat.com/
Ticket Rates: $15 for children, $30 for adults
Address: 16802 AZ-88, Apache Junction, AZ 85119
Contact Number: (480) 827-9144
Business Hours: Tuesday to Friday, 11:30AM–1PM; Saturday to Sunday, 2PM–3:30PM; Monday, CLOSED
A unique date idea, enjoy some snacks and gorgeous views of the Canyon Lake aboard the Dolly Steamboat. It's a one-and-a-half hour, six-mile cruise where you'll spot some desert bighorns, bald eagles, and other local wildlife.
They offer narrated nature cruises, twilight dinner cruises, and astronomy cruises. We're partial to the astronomy cruises, we just think it's so much more romantic.
20. Find zen at the Japanese Friendship Garden.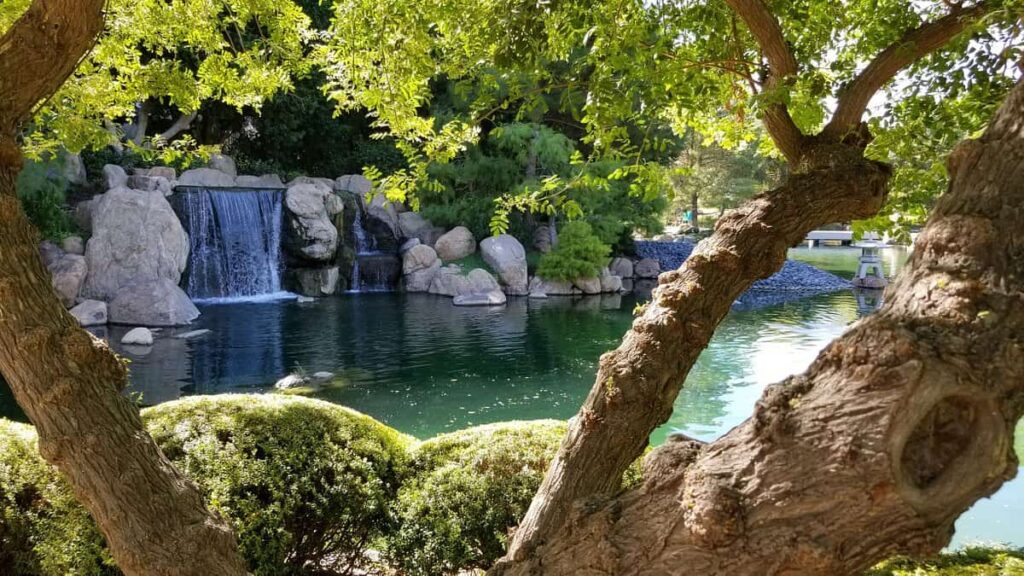 Image Source: TripAdvisor via Lori S.
Website: https://www.japanesefriendshipgarden.org/
Ticket Rates: $7 for children, $10 for adults
Address: 1125 N 3rd Ave, Phoenix, AZ 85003
Contact Number: (602) 274-8700
Business Hours: Tuesday to Sunday, 9AM–4PM; Monday, CLOSED
The Japanese Friendship Garden is a serene, joint project of Phoenix and its sister city, Himeji, Japan. If you want to slow down and calm your mind, this is the place to be.
At the garden, you'll find a stroll garden, a tea garden, a stone garden, and a courtyard garden – each one meticulously-made and -designed, in respect to the people of the city and Himeji.
There are also several events held here, such as the moon viewing exhibit, pottery workshops, aikido in the garden, and you can even take a business Nihongo class.
Are people in Phoenix friendly?
Yes, they are! Probably not small-town-friendly, but friendly nevertheless. In fact, Phoenix ranks at the top of the most relaxed cities in the United States.
Generally, the people here are laidback and easygoing. In 2015, Scottsdale was included in the list of friendliest cities in the nation. 
As we mentioned before, Phoenix has a diverse population. And it's nice to see that people are mostly welcoming, accommodating, and usually easy to get along with here.