Categories >
Guides and Tips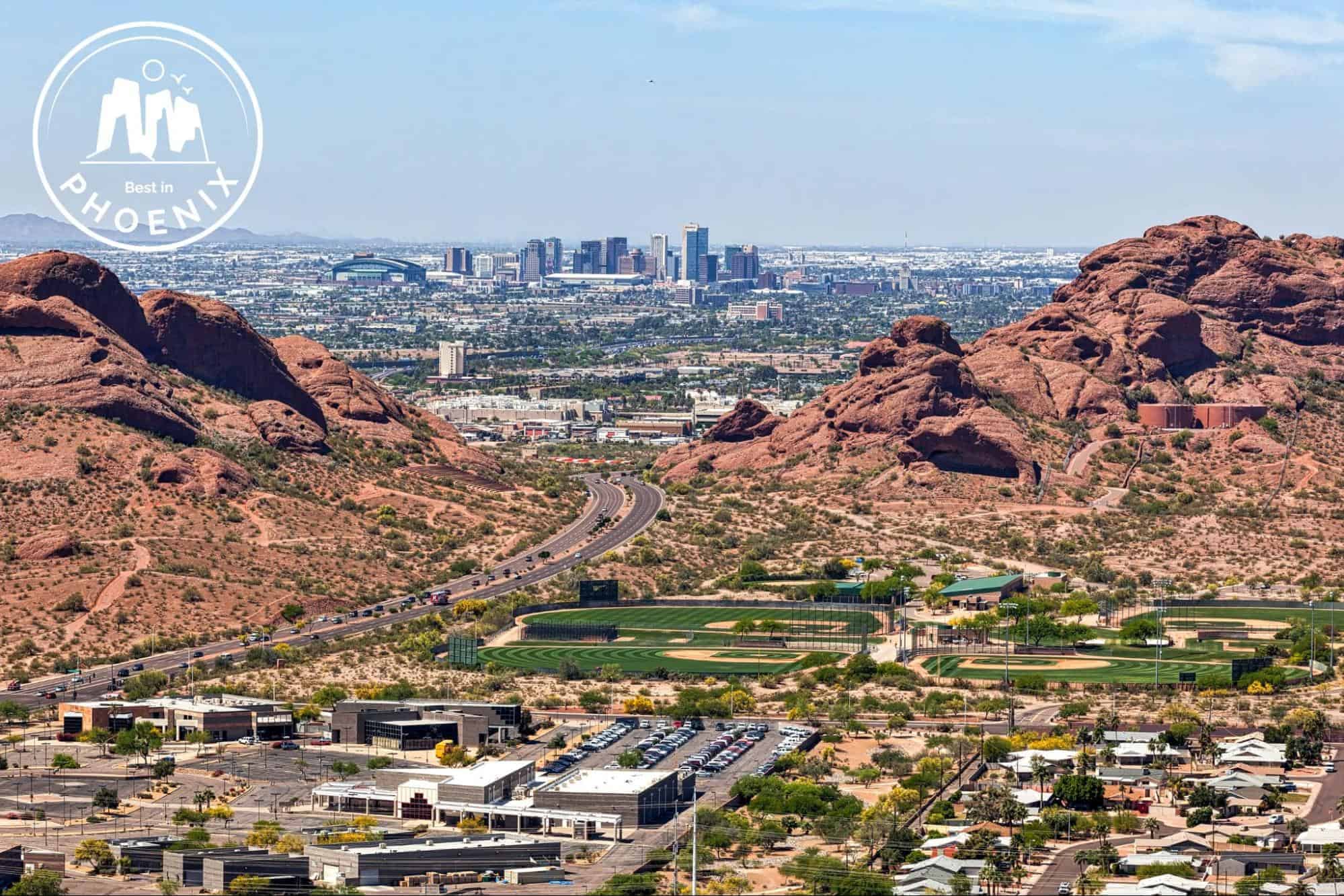 Why is Phoenix a valley?
Phoenix is the capital of Arizona. It's known to be a sunny city and is thriving with art, culture, and people from different backgrounds.
It's also home to thousands of businesses. Take a stroll downtown and you'll come across everything – from coworking spaces to dermatologists, up to flower shops.
There's much to do and much to see all over the city. Because of this, the city grew to become the fifth most populous city in the United States in 2021, overtaking Philadelphia.
Over the years, Phoenix has been called a lot of names. Some simply refer to it as the valley, while others call it the Valley of the Sun.
Why is Phoenix a valley?
Phoenix is considered a valley because it's a flat city that lies along the Salt River valley. It sits at a low elevation and is surrounded by mountains and mountain ranges.
The Phoenix Metropolitan Area, comprised of Maricopa County (Chandler, Glendale, Scottsdale, Gilbert, Tempe, Peoria, and Surprise) and Pinal County, (Casa Grande and Maricopa) is popularly known as the Valley of the Sun.
Why is the Phoenix Metropolitan Area called the Valley of the Sun?
The term "Valley of the Sun" was coined in the early 1930s as a way to boost tourism in the area.
The Phoenix Metropolitan Area is part of the Sonoran Desert. Hence, it receives very little rain and is mostly sunny year-round.
The local authorities then used the Valley of the Sun as a marketing slogan to entice visitors to experience its bright and sunny weather. To this day, it's a term that is still widely-used and associated with the metro.
What's it like to live in the Valley?
While having sunny weather all the time may sound like a dream, it also poses a lot of issues to its residents.
Just last 2020, Phoenix experienced its record-breaking summer temperature when 53 days hit 110-degrees Fahrenheit. It was known as the hottest, driest, and possibly the deadliest summer to ever befall the city. 
Even though residents are used to the scorching heat, the consistent rise in temperature has become unbearable and even unlivable to some.
Apart from global warming, the fact that Phoenix is a valley adds to this. The presence of surrounding mountains giveaway to downslope warming, which traps the warm air among the valley's depths.
This is why residential and commercial properties prioritize having proper ventilation and cooling systems as a precaution for the intense heat.
2. Household pests are common in Phoenix.
Because Phoenix has a desert-like climate, there are several household pests and insects that residents encounter.
Five of the most common ones are ants, scorpions, spiders, ticks, and termites. While these may seem common in all households, they're especially pesky and copious in Arizona.
It's important to have the numbers of trusted pest-control companies and exterminators around. And, regular home inspections are recommended to residents to prevent pests from destroying the structure of their houses.
3. Phoenix regularly experiences dust storms.
Dust storms are usually unpredictable and can occur in desert-like environments at any time. These usually last anywhere from a few minutes to an hour.
In Arizona, dust storms are called haboobs, which is Arabic for the word "blown". These dramatic weather events typically occur during the summer monsoon.
When these happen, it's important to take cover and find a safe indoor shelter. If at home, secure outdoor items and shut windows and doors. 
What are the hottest months in Phoenix?
Because of the desert-like climate in Phoenix, residents experience low annual rainfall and low relative humidity. This results in extremely high daytime temperatures, especially during the summer months. 
Phoenix Average High and Low Temperatures (2021)
| | | | | | | | | | | | | |
| --- | --- | --- | --- | --- | --- | --- | --- | --- | --- | --- | --- | --- |
| DailyAverage | JAN | FEB | MAR | APR | MAY | JUN | JUL | AUG | SEP | OCT | NOV | DEC |
| High | 67°F | 71°F | 78°F | 86°F | 95°F | 104°F | 106°F | 104°F | 99°F | 88°F | 75°F | 66°F |
| Temp | 55°F | 59°F | 65°F | 73°F | 82°F | 92°F | 95°F | 93°F | 88°F | 76°F | 63°F | 55°F |
| Low | 46°F | 49°F | 54°F | 61°F | 70°F | 79°F | 85°F | 84°F | 77°F | 65°F | 53°F | 46°F |
Source: Weather Spark
In 2021, Phoenix recorded over 100-degree Fahrenheit temperatures from June to July. Just last June 2022, Phoenix recorded its hottest day ever in history.
Even though the temperatures at night are usually cold, Phoenix nights aren't as cold as they usually are compared to the previous years. 
Is there anything fun to do in Phoenix?
Why, yes! There are several fun things to do and places to visit in Phoenix. We've listed our favorite ones below.
1. Hike the Echo Canyon Trail on Camelback Mountain.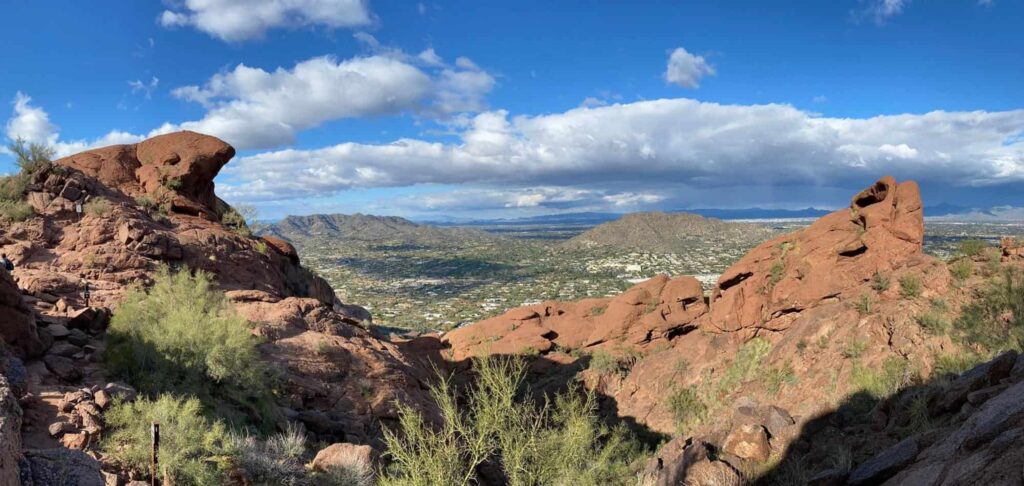 Image source: Hong Chen via Alltrails.com
Camelback Mountain is an excellent hike for tourists and hiking enthusiasts alike. It's a challenging hike located just a mere 20 minutes from downtown.
Interestingly, the mountain is named such because it has two rock formations shaped like the head and back of a kneeling camel.
The mountain has two difficult trails – Echo Canyon and Cholla. The former is more popular as it's more steep and gives successful hikers a beautiful 360-degree view of the valley.
Along the hike, you'll see several beautiful plants such as the saguaro cactus, palo verde, and the creosote bush.
2. Join the First Friday Art Walks.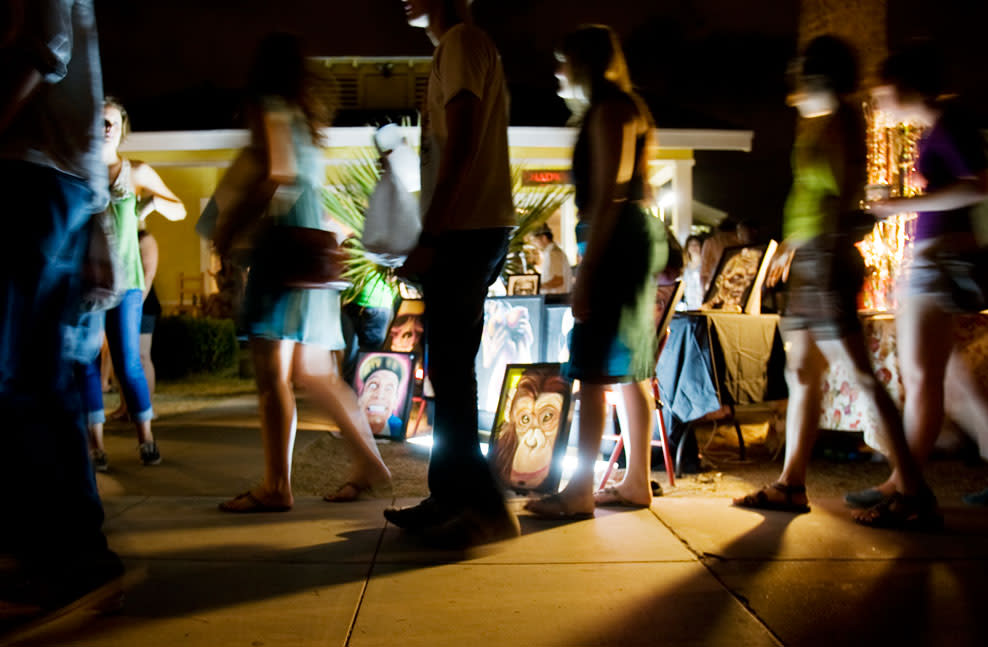 Image source: Visit Phoenix
The First Friday Art Walks were founded and organized by Artlink, a nonprofit organization that has been around since the mid-90s. 
These vibrant events feature a multitude of vendors, musicians, and artists of all genres along downtown Phoenix (typically closed off to oncoming traffic in light of the event).
Thousands of attendees flock to join the First Friday walks to get a glimpse of Phoenix's art and culture. It's often been jokingly said to be the "rite of passage" for new Phoenix residents.
As the name suggests, these happen every first Friday of the month. They technically happen from 6PM to 10PM, but you'll likely see vendors setting up early.
Our personal tip is for you to arrive early, as parking can get quite difficult. Better yet, just take the Valley Metro Rail and get off at Roosevelt or Central Avenue station in order to skip the parking hassle.
3. Visit the Desert Botanical Garden.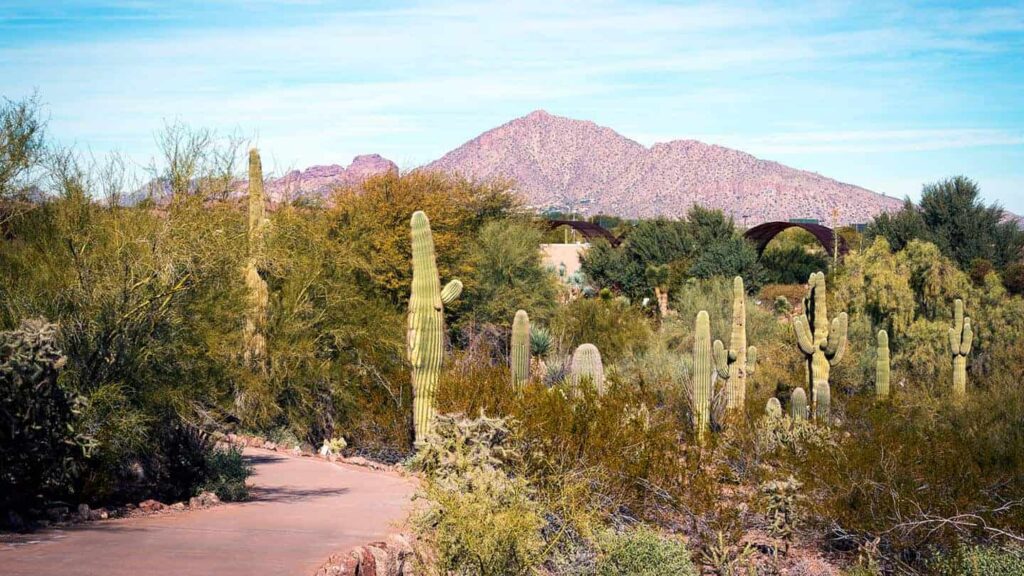 Image source: Desert Botanical Garden
Website: https://dbg.org/
Ticket Rates: Starts at $24.95 for adults
Address: 1201 N Galvin Pkwy, Phoenix, AZ 85008
Contact Number: (480) 481-8120
Business Hours: Monday to Sunday, 7AM–6:30PM
Contrary to popular notions that deserts are just sand and dust, the Desert Botanical Garden is 140-acre tranquil area where you'll find the most vibrant cacti, succulents, wildflowers, and trees.
A crowd-favorite activity here is the Sonoran Desert Nature Loop Trail. Visitors can hike to the top and be in awe of the surrounding mountains in the area.
There's also a lovely butterfly pavilion within the premises. Thousands of butterflies are cared for and protected in this environment; and if you're lucky, you may even spot a caterpillar getting its wings.